We went to my youngest child's first San Francisco Giants game on Tuesday, May 15th and vs. The Cincinnati Reds. The Giants won 5-3 and it really was a night to remember!
I am not much of a sports fan but am able to get tickets since the Giants are my customer. The thought about getting my youngest to his first baseball game came when I took a customer to a Giants game last month. Looking up at the board I saw Japanese Heritage Night was on the 15th and that it might be a great opportunity. I am also switching jobs soon where the Giants might no longer be my customer so we should take the opportunity while we have it. Furthermore, they were playing they were playing the Cincinnati Reds which of course are from my home state of Ohio. So needless to say it was a perfect game for his first. What I didn't know is how fantastic it would be.
I secured the tickets no problem but then was speaking with my second contact at the Giants and he mentioned getting out to a game. I told him, "Well, actually we'll be there on Tuesday!" He was thrilled and said "Why don't you come a little earlier and I can get you on the field for batting practice. Say 4:15?" This sounded like a great opportunity so I quickly agreed. Again, there was something I didn't know and that is how amazing it would actually be!
We parked at Daly City and took the BART to the Embarcadero station then switched to the Muni which we took to Second Street. My contact met us near the stadium souvenir store and we got our passes for the field.
The first person we met is one of their scouts/assistant coaches Will Clark! Will Clark is someone I remember growing up with and I swear I have his baseball card but will have to double check. I learned that it is good to have two young kids with you because many of the guys will give you practice balls and take pictures. Will Clark obliged but I didn't think at the time that we should ask for a signature so we just got the picture.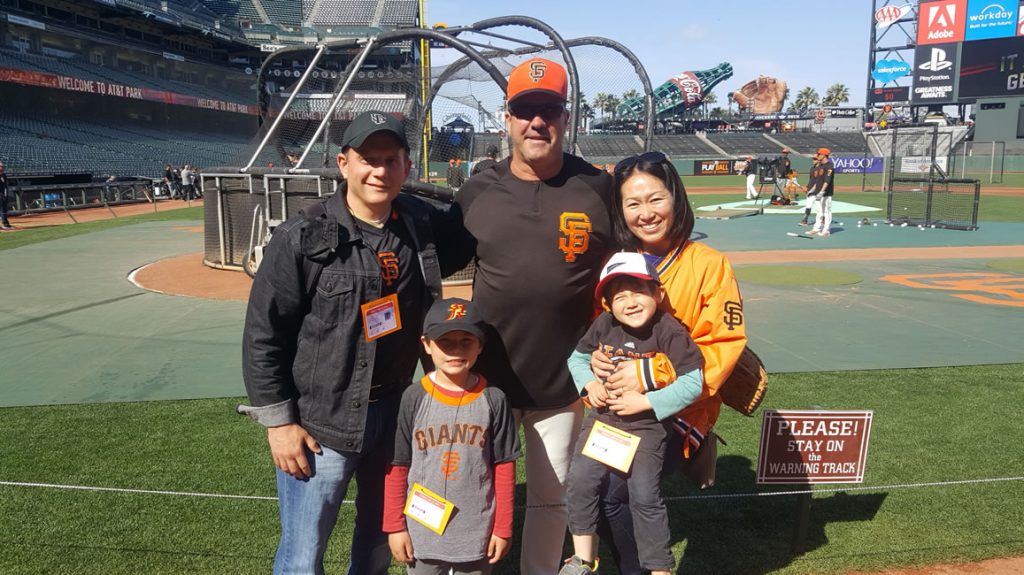 Next, we walked to the other side of home plate and watched practice for a while.
My contact then asked if we had a pen so we could try to get signatures. This isn't the easiest thing to do because you're kept to the track and cannot bother the players who are warming up. But if they approach you then you're free to talk to them. We were lucky to have my contact with us because he could easily strike up a conversation with them since they know him. He saw that the biggest star of the Giants, Madison Bumgarner, was near the rope and went over to speak with him and introduced us. Madison was kind enough to take a picture with us but not only that, he signed TWO baseballs for my boys!!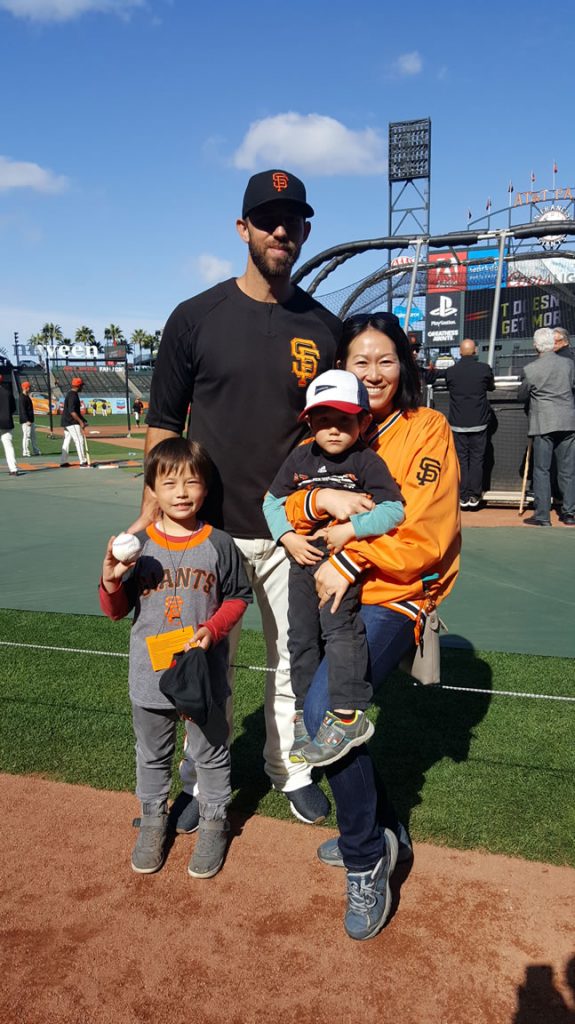 We returned to the other side of home plate where Gorkys Hernandez came over and gave my boys high fives. I thought it might be rude to ask pictures and autographs from everyone that came over so we just did the high five with him. I was also too timid to strike up a conversation in Spanish and couldn't think of anything to say anyway.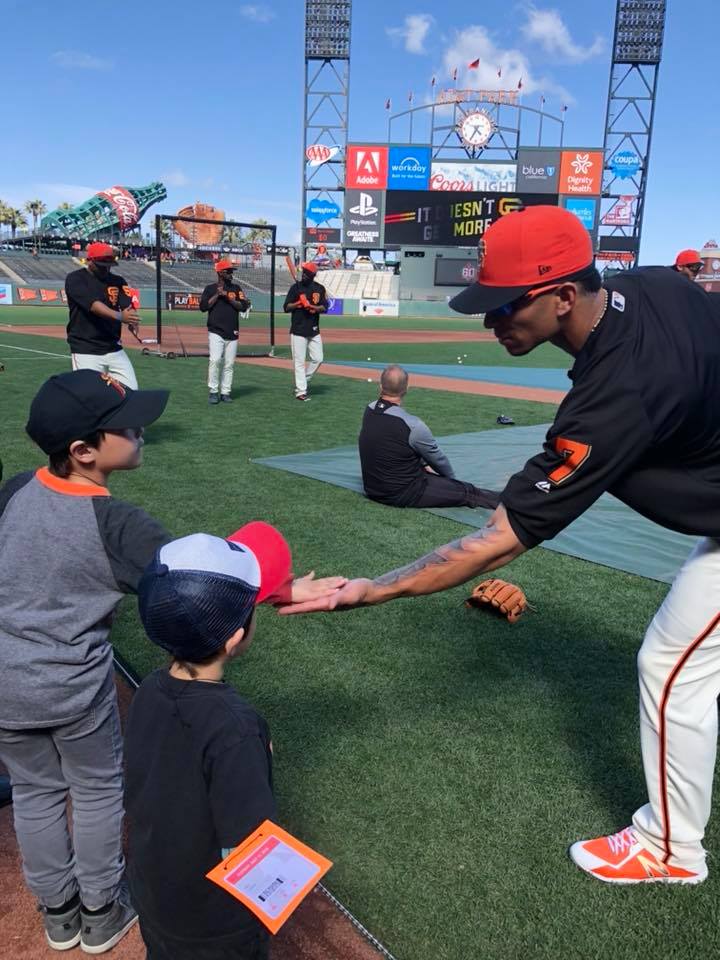 The next person my contact was kind enough to strike up a conversation with and introduce us to was Mac Williamson. We had some light chit-chat and he was kind enough to take a picture with us and also signed two baseballs for my boys! Really nice guy.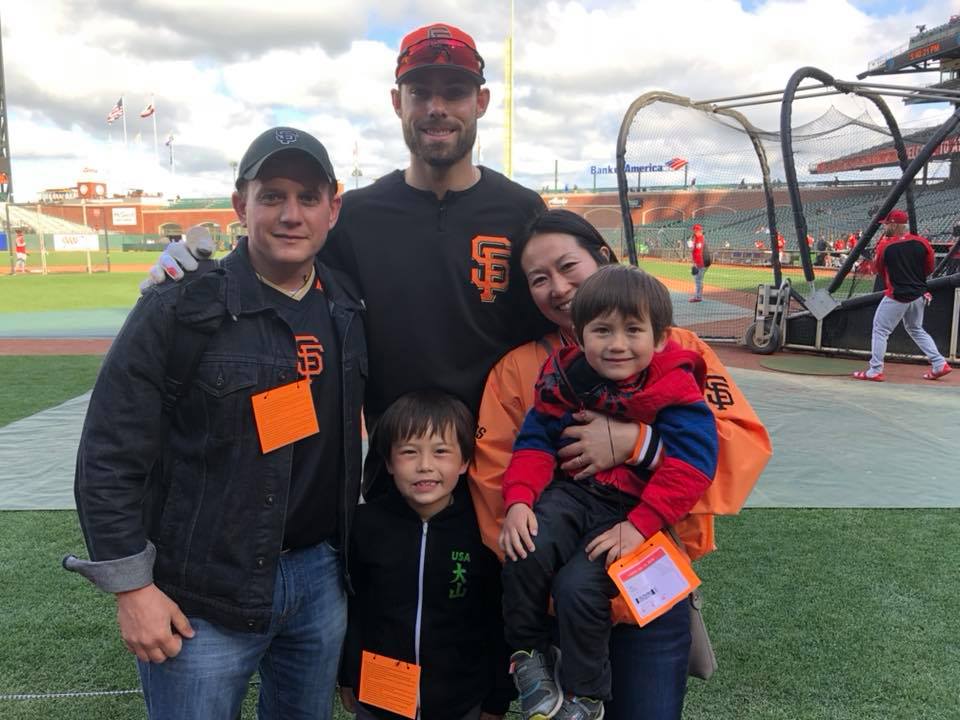 The next stop was to the press box where reporters broadcast the game in real time and report to newspapers and other news outlets all over the world. Here is a view from the press box.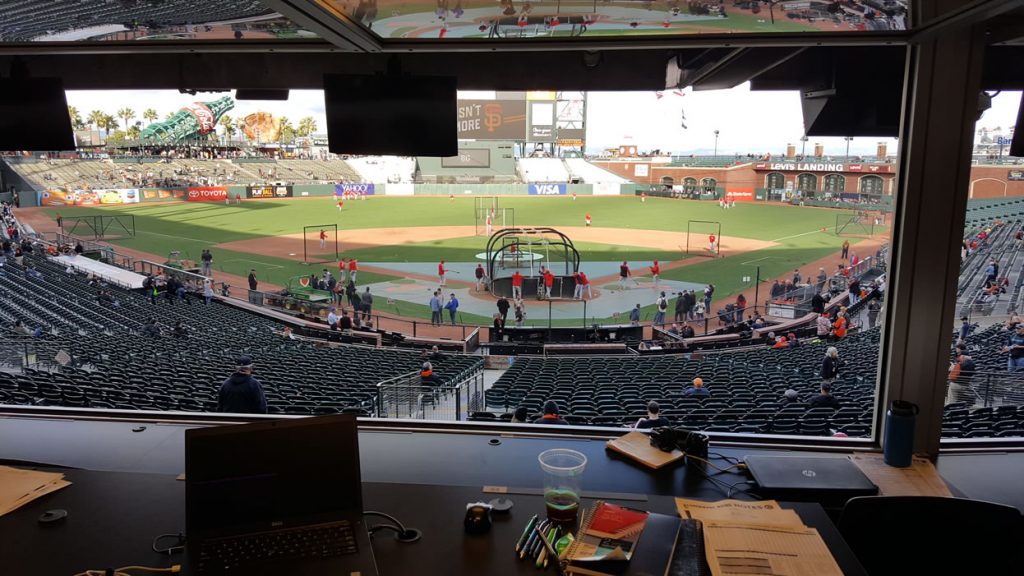 We then went over to the Japanese Heritage Night party which was held just outside the stadium. They were giving away SF Giants – Japan cherry blossom themed backpacks and so we got two for the boys. To be honest I wanted one as well (I'm just a big kid) but thought it might be rude to take too many so was left without.
It was an incredible night and what a story to tell should my boys become baseball fans. I doubt my youngest will remember it but to help, I wrote about it in the family blog so he can have a refresher when he is older.