It is 8:49 AM on Sunday May 31st, 2020. I have asked myself many times this year if things could get any worse. I quit asking myself that question months ago yet things continue to get worse. At this point I'm wondering if we will see a bottom for a while or if things will simply continue to decline along a steady pace as the months and perhaps even years roll by?
I'm on the verge of deleting Facebook again. I would love to do this but again, doing so would mean losing contact with hundreds of people around the world forever. I'm tried of reading everyone's opinions but I have to say it is fascinating how quickly people will forget teachings of love and respect and choose a side. I was very disappointed in the boomer generation adult when I myself because an adult and now I am equally, if not more-so disappointed in the adults of my own generation. Adults are supposed to be smart and have answers. I'm realizing adults are amazingly dumb and this is depressing.
As with many things in this blog this explanation is so my ancestors can have an accurate representation. As there are no like buttons nor room to comment I'm not interested in feedback. It would seem that around ninety percent of Americans will just parrot their choice of propaganda and I could just get that directly from the source if I were so inclined.
So what is happening and why?
It is because racism is deeply ingrained in American society. It is not something a sports star nor black president can cure although the media likes to think it can. Human beings on the overall are very tribal and it is very difficult to eliminate the instinct. Humans have always mixed but the tribal instinct remains. Take the Arab Moors conquering Spain over hundreds of years and now most Spanish have black hair and black eyes. You know what else Spaniards have? Ancient hatred for the Arabs even though Arab blood is in their veins. Let's stick with Spain and look at Mexican society. The rulers are mostly white and at the bottom of the social order are the natives. You go up in social class depending on how much Spanish blood you have in your veins. These rulers then do not care much for the natives although native blood also runs in their veins.
Here in America racism courses strongly through American's veins and although diluted much over the past century is still as strongly present and real as a Spaniard's black eyes. African Americans started out in this country as slaves and have had a very hard road since due to this racism. Simply put, it has been much more difficult for them to build wealth and prosper due to racism. If racism could be removed completely I imagine society would be quite harmonious and everyone prospering. But no, the racism persists and injustice after injustice is perpetrated on African Americans. The current unrest is the direct result of a racist society.
Reading the news today I see white leaders telling people they are dishonoring the legacy of George Floyd by looting and rioting. Well, let's state things clearly here. Both peaceful as well as violent protesting has occurred many times int the past but it rarely does anything. Just a few years ago the Occupy movement had people marching all over the place, holding rallies and lots of people speaking lots of words up on stage. Then it ended and nothing changed. I remember the L.A. riots in the news and seeing video of a man being pulled from his truck and almost killed. Guess what came of those riots? A damaged L.A. came out of them and not much else. So what will happen with these riots? There will be damage, people will get arrested and pepper sprayed, they will end, and nothing will have changed.
The only thing riots serve is to harden the opinions of those who already hold racist views. But I understand the need to protest and even those that want to break things. They live everyday under suspicion, in a society where the feeling of being an outcast is always there although to varying degrees depending on the environment, socioeconomic status, and mindset of the individuals. This is everyday life for them and something that those who do not experience it really cannot empathize with since they have no idea what it is like. However, let's not pretend that all of the protesters motives are pure. There are more than a few who are thugs, to cause chaos and steal. You see these thugs looting stores. But then I ask myself what is the difference between them looting stores given the opportunity and white collar executives looting their customers (or anything that can be looted) given the opportunity? I remember Wells Fargo charging customers for accounts they didn't want and then calling it "deepening the relationship." Perhaps these looters are deepening their relationship with Best Buy? Taking for personal gain is the American way! This is also deeply ingrained in the DNA of this country. The only difference is the ones on top can get away with it whilst the ones on the bottom of the socioeconomic ladder cannot.
Let's also be honest about the police and George Floyd. This is where I do not understand why white leaders keep saying "the legacy of George Floyd." He was drunk and trying to pass counterfeit bills. He was not a role model. But here is the catch. When was the last time a white cop killed a white person for stealing? Reading the news I can count three times just in the past few months when extreme injustice occurred based on racism. Arbery, Edmondson and now Floyd. This is that native racism with the only difference from the past is it can now be easily recorded and shared when in the past it could not.
Looking at my Facebook feed half have taken the side of police and half on the side of the protesters. None have written a post trying to understand both sides. This is the important point my ancestors. The truly intelligent can delve into and try to honestly understand the other side. This is not a talent that comes naturally and takes work. This also creates the ironic outcome where expecting to receive more answers you're own viewpoints become less stable. The results in more reading, and the more you read the more questions you will have and it will continue forever. It can cause anxiety to never be steadfast in your own opinions, to never have an eternally correct answer. But it is also exhilarating!
You'll soon see that those who are so sure of their answers are the ones that know the least. These are the ones who are the most vocal. In my own feed it is those who did not go to college and received C grades in high school that post the most and are absolutely sure of their own opinions. The Left side of the spectrum is smarter than the Right on the overall. But the Left is also blinded by their arrogance and smugness. They simply see the other side as dumb and that they must teach them. Well, the Right doesn't want to be taught and hates the Liberals for it. The Right prefers tradition, the way things are and doesn't want all this change. There is nothing inherently wrong in their opinion. They like sticking with their own group and do not want to be "sensitive" for every new snowflake issue that comes up. I remember myself hating how at OSU we were always taught to be "sensitive" to one thing or another. Exaggerating a wee bit it was like "Hey, this mess of a human wants to identify as a transsexual saucepan with a fetish for spoons on Tuesdays and Thursdays, but straightly bi-sexual on Wednesdays except on the weekends when she/he/we/it/us/they – please use whatever pronoun they would like – would just like to be known as asexual Bruce. For God's sake's man, you had to be sensitive to something new every other day and if you weren't you were a neanderthal.
So yes, I can very easily see both sides here and seeing both sides is a mark of intelligence which we simply do not have enough of especially at the moment.
In other news I want to pick on religion a bit. The Orthodox Church in Greece uses the same spoon to dish out Communion. This means the same spoon goes in the mouths of the entire congregation!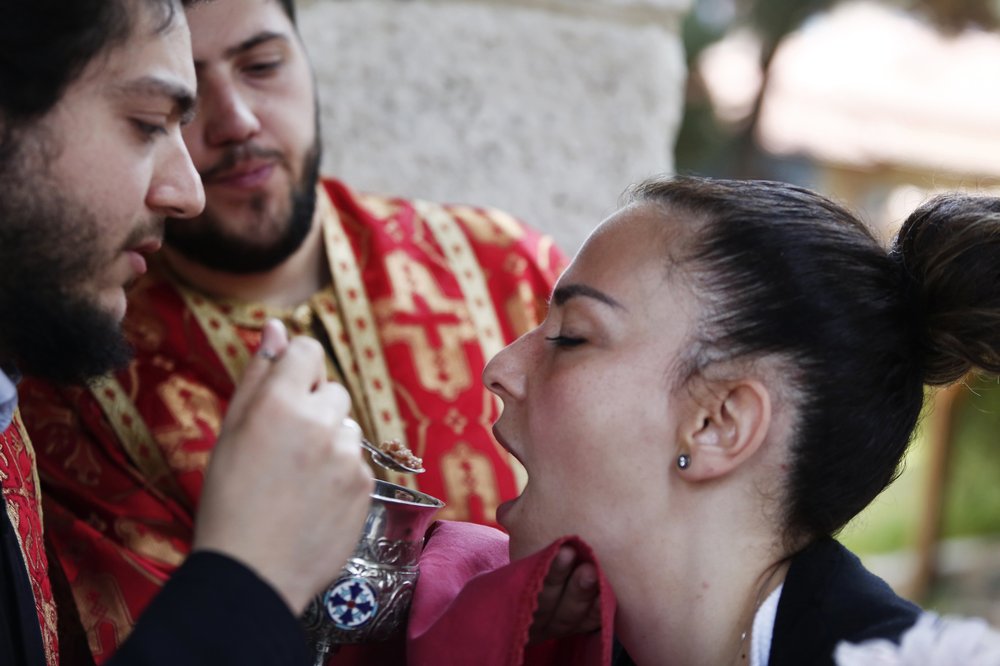 Contrary to what science says, the Greek Orthodox Church insists it is impossible for any disease — including the coronavirus — to be transmitted through Communion. "In the holy chalice, it isn't bread and wine. It is the body and blood of Christ," said the Rev. Georgios Milkas, a theologian in the northern city of Thessaloniki. "And there is not a shred of suspicion of transmitting this virus, this disease, as in the holy chalice there is the Son and the Word of God."
It is quotes and beliefs like these that make me feel like Agent Smith from the Matrix.
I hate this place. This zoo. This prison. This reality, whatever you want to call it, I can't stand it any longer. It's the smell, if there is such a thing. I feel saturated by it. I can taste your stink and every time I do, I fear that I've somehow been infected by it.
There is so much dumb in the world. I used to think we could trust the adults. As an adult myself I can see that becoming an adult is no cure for stupidity. I used to think that we could trust the President. Well, then I learned a lot about historical presidents. I learned that in a drunken rage Nixon ordered the atom bomb to be dropped a few times. I recently learned that Clinton is up to his ears in sleaze. And with Trump, well, it is something new with him everyday isn't it. I also used to trust priests. Then I learned how many they abused even in my own parish. I was equally amazed at the nonexistent reaction from the parents. Since they were all absorbed into the religion priests doing something wrong just doesn't compute. They say something like "Oh, well, he was a bad apple." They are mentally unable to understand that the entire barrel is bad. Religion owns them, they are in a mental cage from which they can never escape no matter how much evidence is given. Jesus himself could come down out of the sky and say "You know what, this was all a joke." The faithful would momentarily be shocked, unable to move until the brain swung into action. No, this isn't true, you're the Devil in disguise! This my ancestors is how religion works. Almost everyone will be the same religion as their parents. Technology, science and human knowledge will increase. Over time many more may be able to escape the mental cage of religion due to this knowledge or it could swing in reverse. The knowledge may be too much for many to bear and so they will cling to the familiar, to "the answers." Clinging to anything is more secure than drifting out there in the unknown and usually all alone. As for me, I revel in it.
But going back to the spoon, it makes one want to say the trite phrase "Are you serious??!" This is akin to people of rational mind saying hey, you're dishing out a spoonful of disease!!! And the response is, "No, no, the magic bread will gloriously remove any impurity!" Not only is this absurd but the thing itself is absurd. The magic break and wine was changed into flesh and blood and people want to eat it! I believe this goes back to pre-human times when eating that which you've conquered makes you stronger. Hey, Jesus, I am going to eat you. Jesus commanded us to eat him!
WTF
I really am in the Matrix aren't it? People cannot get along due to the color of skin, the President is threatening to "release the hounds" like Mr. Burns on the Simpsons and some guy named Jesus is telling people to eat him and billions obey. Many of them with the same spoon. In a global pandemic.
The change from 2019 to 2020 was also us entering into a new dimension, an absurd timeline where nothing makes sense. Oh, well, just like being adrift all alone with no solid answer to ground myself on I will appreciate the experience of living in such an absurd time. I will write in my blog and still appreciate the blooming flowers, a nice glass of wine (not blood) and the beautiful sunsets. As is often said in the Tale of Genji, "This would is uncertain and nothing is secure."
My life is as short and insignificant as the morning dew on a wisteria leaf." – MdC
I was going to end there but just opened up my news and The NYT has an article of a reporter being shot with the headline "I've been shot!" You know what, if you're going to go into what resembles a war zone you should probably be better prepared and not expect special treatment because you're the media. This reminds me of a highly uncoordinated girl being asked to do some sort of physical activity. If she is not completely supported through the entire activity she will fall down in very dramatic fashion for all to see. She is a girl that can do nothing for herself unless given so much special treatment that it is actually done for her. Likewise, if you're going to go into a riot zone you better have someone prepared for it. Not some weak person who expects her media badge will shield her from all going on around her.