It is 8:20 PM on Wednesday May 16th. I'm very tired and have been all day due to an amazing experience yesterday.
In my line of work I deal with decision makers in corporations and one of my customers is the San Francisco Giants. I work with them pretty much weekly but not being much of a sports fan only attended two games in my six years with my current company even though I could get tickets pretty much whenever I wanted.
Well, a customer of mine wanted to go a few weeks ago and at the game I noticed that Japanese Heritage night was scheduled for yesterday. I thought this would be a perfect first game to take my youngest to because it was not only Japanese Heritage night but they were also playing the Cincinnati Reds from my home state of Ohio.
Full post with pictures of the experience here
So I got the tickets but was in for a treat. As usual I was speaking with my contacts and mentioned I'd be at the game. My contact asked if I'd like to come early and get on the field for batting practice which I thought would be very cool. What I realize is that the players are right there and we got to meet some of them.
The first person we met was Will Clark who I remember growing up and even have his baseball card. He is on the staff and gave my boys some practice balls and took a picture with us. The next player we met was none other than Madison Bumgarner who not only took a picture with us but also signed two baseballs for my boys! The third player we met was Mac Williamson who also took a picture with us and also signed baseballs for my boys! Gorkys Hernandez also came over and gave my boys a high five but I didn't realize at that time that we could ask them for autographs.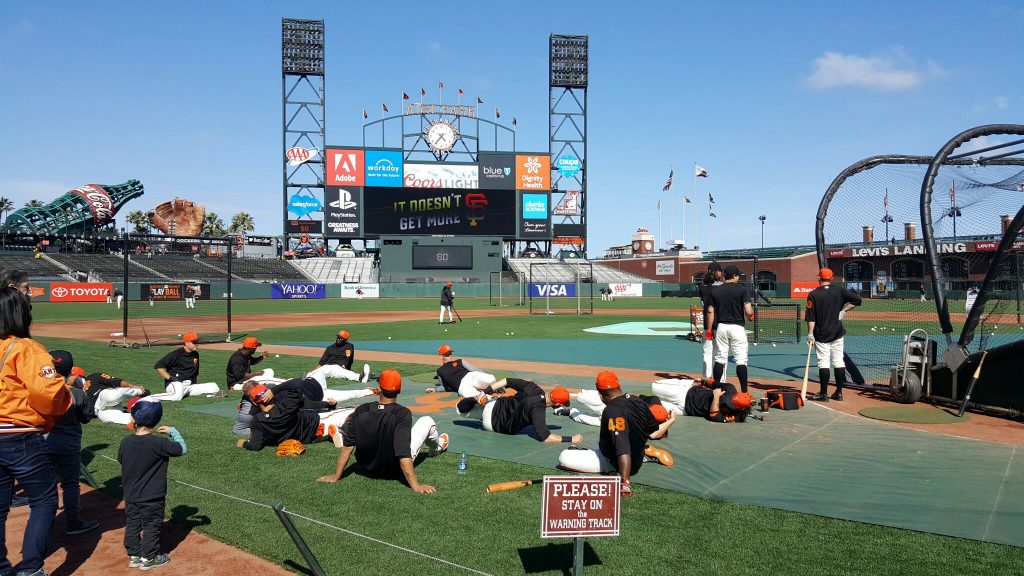 We watched batting practice for a while then went inside to say hello to my other Giants contact. After that we visited the press room and then went to where they were holding the Japanese Heritage night party. My boys got two cool backpacks with the SF Giants logo, a cherry blossom design and the kanji 'Kojin' which means "Giants" in Japanese.
The game lasted a while and the Giants one. I made sure to go to fan services to get a certificate of "My First SF Giants Game" for my youngest and we bought plenty of baseball stadium food.
We didn't get home until very late and I didn't sleep well so that is why I'm so tired today.
All in all it was an amazing experience and one I did not expect we would have.