It is 6:49 AM on the first day of 2017. I woke up much later than usual not due to staying up until midnight or drinking too much: I woke up later than usual from a busy day hiking, playing with the boys then having three small champagne glasses of Louis d'Estree Sparkling Méthode Traditionnelle Dry.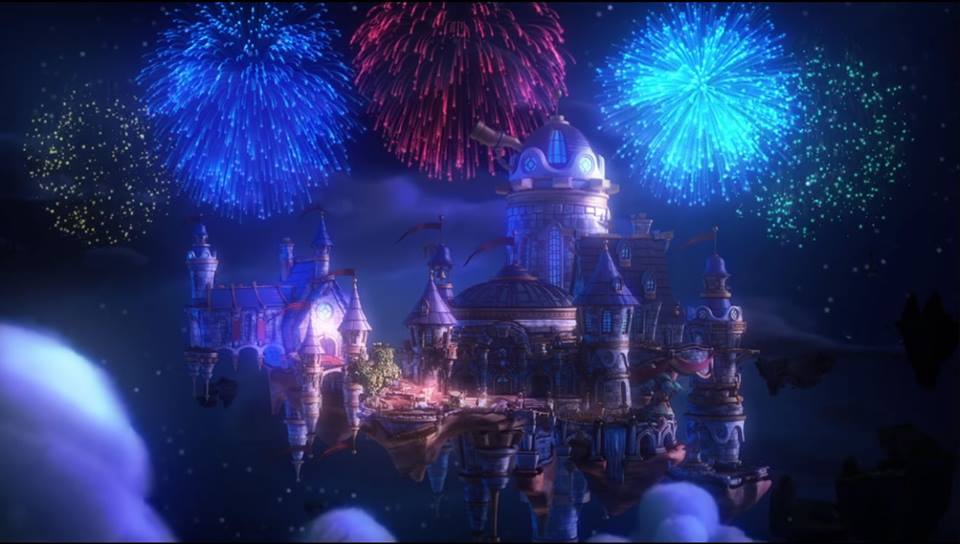 We took advantage of Netflix's on-demand streaming countdown and went with Skylander (above). My oldest didn't seem too excited by the whole ordeal but it will be a good memory to look back upon – thanks Netflix!
I woke up with stomach aches most likely from eating too much of the delicious traditional Japanese food that my wife prepares. The stomach ache was timely as it made me open my eyes at exactly 11:55 PM per the clock projection on the ceiling. At midnight I heard a number of fireworks and outright bombs that rogue Pacificans are known for setting off during events, holidays and at random. I then closed my eyes and went back to sleep not bothering to get up until at least around six.
The first day of 2017 is windy and as the day begins to break I see that we're covered with fog except for a number of clear, pink patches over the Pacific ocean. I'll take this as a good sign and I'm sure it will clear up further throughout the day. This year is unique already in that I see the next seven days show rain and I cannot remember the last time we've had such a weather pattern. Normally people would take rain as a bad omen but here in California we need all the rain we can get so any precipitation is very positive.
So what do I plan to do for 2017? I do not do resolutions, I find them cliché; I set my mind, all my focus on something and then do it no matter what time of year it is. Being New Year is convenient as it really is a time to reset, take a look at your life and then do a little planning. As I mentioned in a previous post this is the year to focus on my career which will happen early on. The other activities which are a continuation are: very early morning gym, karate, studying Japanese for the official test, and spending a lot of time with my boys.
As for computers/internet I recently did a lot of studying and learned a lot. The major thing was learning how to implement SSL on my blogs – written about here – but I also put filtering software on my son's device. I caught him and a little friend looking at naughty pictures on his phone using Google Voice so I had to quickly do a crash course in options available. I went with Norton Parental Control Software as it has great ratings, is easy to implement, is free for the basic version and I have long used Norton Anti-virus. The next interesting thing I learned about was Android Auto. This is an app that starts automatically when connected to the car's bluetooth and provides a screen optimized for driving. A new law went into effect today here in California that says you cannot even touch your phone unless it is for just a second on a properly mounted phone holder. So I'm feeling up to date and refreshed on the technology. The only other thing I could wish for right now is for a high end new server but that most likely will not happen.
This year also is a major one for me as it is the year I turn forty years old. My mom once told me when I was little that she never dreamed in a million years she'd be turning forty yet there she was. Well, I thought forty would never arrive either and yet here it is, just five months away. I'll need to dedicate a post to my thoughts on this but in short I feel fine about it. My life has gone the way I've wanted and has been very exciting and fun. Your life is determined for you until you've graduated high school, then you're still in a cocoon in college, then it is on your own after that. For me, there have been a series of chapters since graduating from Ohio State. The first chapter was Japan, the second Vietnam, the third living in San Francisco in a small apartment and now I'm six years into the fourth chapter where kids made their appearance, I'm in a fortress of a house and it looks like dramatic changes in location will no longer happen for the rest of this book. I can still keep things exciting however and the next chapter will be a change job but the next chapter has given no hints just yet.
I do have to say how happy I am with karate. It has given me a renewed vigor, a feeling that I hadn't felt since high school wresting. It is a life-long wish to do it and it has finally happened. The only other new activity I'm looking forward to – also with the boy – is cub/boy scouts. I enjoyed this as a kid and am looking forward to learning more about and engaging more with the outdoors. Camping is on the horizon for our family and I think the cub scouts will be an excellent door opener for this. We can also go with some of our friends who are more experienced and know how to make camping fun! I had a number of bad experiences camping when I was a kid and so do not look too favorably on it but am sure doing it again as a parent will change my mindset on it.
Well, the family is up and the day must being.