It is 5:50 AM on a very early Thursday morning. I've just returned from the gym, have put the coffee on, turned on my television fish tank, and instead of birds chirping when for 'New Age' music to start the day.
Yesterday was an exciting day for me and made me feel in a way I haven't felt for a very long time. It is the feeling one gets when you start something completely new and have made a commitment to continue doing it for a very long time. I had my first karate class and in doing so finally fulfilled a wish that has been thirty years in coming.
I was seven years old when the movie Karate Kid came out. That movie reinvigorated more young people to start karate in this country then had been seen since the Kung Fu craze (Everybody was Kung Fu fighting) of the early '70s. I also remember watching the T.V. show Kung Fu in the early '80s but it was the Karate Kid movie which really made me want to try martial arts myself.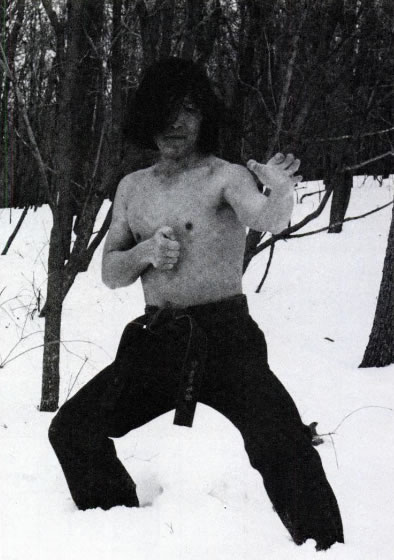 I was swept up in karate euphoria and eventually convinced my mom to let me start and we found a Tae Kwon Do dojo she said I could join. I remember meeting Master Choon Mo Yang and how excited I was. He handed me a copy of Black Belt magazine (April 1986) where inside there was an article about him and a picture of him meditating in the snow with only pants on. I was extremely impressed! Writing this paragraph I have to smile given my knowledge of Asia now versus the knowledge my Mom and I had about the 'Far East' at that time. Karate Kid was karate (Japan), not Tae Kwon Do (Korea!). But it didn't matter in the least to a young white kid from the Midwest, it all seemed the same to me.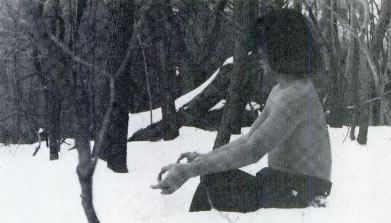 I did Tae Kwon Do for what I think was a little over six months and received my yellow belt. I even remember the test because I almost didn't pass! We had to sit on the floor cross legged while others did their tests first. I was not used to sitting like that for extended periods but was terrified of sitting any other way. My legs fell completely asleep and when it was my turn they felt like jelly! I was too afraid to tell the master this so just went ahead with the test. The only thing I remember having to do was a kick where you turn around and kick – a back kick maybe? Since I couldn't feel my legs I had a hard time keeping my balance and the master asked why. I don't remember my answer exactly but I passed anyway.
I remember the other members, one of which was a stout lady. One time the exercise was to extend the leg as in a kick with the foot against your partners palms and hold. I had a hard time holding/pressing back against her leg and in a raised voice she said 'hold it!' I thought 'Hey, I'm just a kid and you have a heavy leg!' The other things I remember are:
A kid a little older than me who had a blue belt. He got hurt outside of class and had to stay home and heal. He wrote the class a letter saying he was doing his meditations everyday and would be back soon.
Two teenagers who seemed to be from rough neighborhoods. Even at my young age I realized the value of Tae Kwon Do in keeping these guys from getting into trouble by giving them confidence through martial arts.
A slightly older teenager who I remember doing a flying kick through the air and breaking a board. That was one of the most impressive things I had seen in martial arts thus far.
The Master – I'll have to see if I can find his name somewhere among my archives, or better yet that original Black Belt magazine which I'm sure is lost. I remember seeing him pass by in his car and learning he lived in Arlington Pointe apartments which is where my friend Terry lived and we would skateboard. The last thing I remember about Master is learning that three guys had tried to mug him at night. They had knives, two went behind him while one stayed out front. The Master would only say "I handled it well."
*Update – Master Choon Mo Yang – Columbus, Ohio's longest Tae Kwon Do master. He has come a very long way from that small studio I briefly trained in back in 1986, now with a dozen locations and the most famous Master in Columbus!
I think my Tae Kwon Do experience plays a small part in the build up in my love for Asia and my eventual reason for moving there.
It wasn't long after I received my yellow belt that basketball season was starting. I was in the fourth or fifth grade in a class of about 24 people, roughly half were boys. The alpha male of the class Jason C. asked if I was playing and I mentioned that I had Tae Kwon Do. His reply was "Curtin – you're playing!" The reason was I was pretty athletic and the team needed me but it unfortunately spelled the end of my brief martial art experience.
The next time the desire to start martial arts rose up again for me was with the release of the movie Crouching Tiger Hidden Dragon. The night fight in this movie was absolutely awesome and I was made speechless at the beauty of that female ninja! This movie (and my appreciation for Asia females) also played a role in my fascination with Asia and got me thinking about possibly moving there.
My second and third – again brief – experiences with martial arts was in Tokyo, Japan. Let's start with the first at Waseda University. I had just begun Japanese language class and we were informed we could join university clubs just like regular Japanese students do. I knew right away that I wanted to join the karate club which I did. The thing that stood out to me right away was how militant this club was. There was no walking, every word was in a loud voice and they were strict!! I remember in one of my first lessons we went outside to their practice area where wooden poles with pads on them were set up. We had to punch these repeatedly and my fists started to bleed. I let them know but to my surprise they told me to keep going even though I was staining the pad with blood.
The second thing I remember is having to run a long distance in uniform. We got to our destination and one member had an upset stomach and had to use the bathroom for half an hour while we all waited for him. I also remember how tight this group was and one of the girls even slept in the dojo from time to time. I'm not sure exactly why but am guessing it is because the trek back home must have taken a very long time.
The last thing I remember is getting kicked out. There were only two foreigners, me and Mathias (French) and we both were kicked out. The reason is because when spring break arrived Mathias went traveling and I had to teach English class to get some extra money. I got a text from one of the guys in karate class saying there was a 'special practice' at some remote location. I couldn't make it because I already had English classes set up for that day. He said 'muridesuka' which roughly means 'is it impossible?' I said yes, 'muridesu,' and that was my mistake which I did not understand at the time.
Normally it is ok to refuse something given proper politeness and considerations in Japan but apparently not to the karate group. When school resumed both Mathias and I went back to karate and nobody was speaking to us. We both noticed it right away and he asked me in French something like 'porquoi est-ce tout le monde froid?' or something like that, which is 'Why is everyone being so cold to us?' Then the Sensei who was also a student called us in and let us know. We pleaded our case and that the group would have to forgive us; we were foreigners after all, had already made plans and didn't realize how absolutely imperative 'special practice' was! He did speak with the group but forgiveness was not granted and we were out. Murideshita.
I really thought it was extremely cool to do martial arts in Tokyo so I didn't give up. I found that the Aikido headquarters wasn't terribly far away and so I joined. The only class I could really do was the super early one at 5:00 AM. I had to take the Yamanote line for three or four stops, get out and walk about 25 minutes. After class I took a shower then had to walk another 30 minutes to Japanese class at Waseda. After Japanese class I had to go home, change and then go make my English classes which were an hour away. Needless to say this was a rough routine and although I kept it up it ended when I moved to Vietnam. I couldn't even get a good Aikido roll down, so that venture didn't work.
All of this brings me to yesterday. All the pieces are in place and I finally will be able to accomplish something that has been so elusive for so many years. I would have liked to start sooner but with two boys, time away from them is time away from them and something I don't want to do. But now, Kai is five and started karate with friends at another dojo. I knew eventually that he would have to switch to a Japanese place and one that was closer. Oyama Karate is full contact and I was very worried that Kai might not adapt to the change well. Luckily the Japanese mothers network here is tight and it turns out we know kids in that class already! So, Kai did the first lesson by himself – without a dogi and did great!
We let the sensei know that we had already made our decision and were ready to sign up. She was surprised when I let her know we would need two forms as I would join as well. She surprised me back when she said it would be ok for me to join the kids class! Most days the adult class isn't right after the kid's class which would be highly inconvenient for me to make two trips many times a week.
Yesterday was our first official class. Although I wasn't nervous about the class in general I was a little nervous about being in a kids class (I kept thinking about a particular Seinfeld episode where Kramer does karate). Also, this is a stricter dojo that does things in a very Japanese way so it seems one just doesn't start chatting with the master. I wasn't sure if the sensei I had spoken with had let the master know, asked if it really was ok to join the kids class. I changed into my gi and asked the kohai if it really was ok, he asked the master, and things turned out great!
I love that this is something I can do with my son and later on with my other son! I also love that it is something that will instill discipline, confidence and is part of their heritage. The instructions in class are in Japanese with the master mixing in English to make things clear. During that class I sweat more than I have in a while – even more-so then my usual workouts or even going into the sauna!
At the end of each class there is sparring (thus the full contact and using what you learned) and the master pared me up with Kai. Kai came at me and even almost kicked me the balls once or twice which made the master laugh. I also felt glad because the kohai asked me if I had experience as my roundhouse kicks were pretty good for a beginner.
Yesterday was the beginning of a lifelong journey and one that I'm very glad I finally get to embark upon. My main goal ever since I discovered languages, Europe and the world, was to become a "Renaissance Man." My image of this is one who is: sophisticated, loves learning, appreciates the arts, kind to and cares for people, confident, worldly, spiritual and finally, one who can defend himself and others. Karate is the final piece, the martial art, to this puzzle which is finally coming into place.
---
Links:
1. Yang Tae Kwon Do – http://yangtaekwondo.com/
2. Taekwondo Times – http://www.taekwondotimes.com/magazine/magazine_bonus_detail.php?bns_seq_i=19
3. Black Belt Magazine (April 1986) – https://books.google.com/books?id=k9sDAAAAMBAJ&pg=PA38&lpg=PA38&dq=Choon+Mo+Yang&source=bl&ots=sEGcrklxl3&sig=tp1RSgfsMxC8Ue3hUJDi_E9Gy3o&hl=en&sa=X&ved=0ahUKEwjertGYuPbOAhUGwGMKHdH_DxQQ6AEIQzAI#v=onepage&q=Choon%20Mo%20Yang&f=false
---
COLUMBUS DISPATCH ARTICLE 2/10/2022
Hilltop tae kwon do grandmaster, 80, shows no signs of slowing down
LINK: https://www.dispatch.com/story/news/2022/02/10/hilltop-tae-kwon-do-grandmaster-choon-mo-yang-improves-lives/6640380001/
Choon Mo Yang moved around the small, wood-paneled room, the medals hanging around his neck clinking softly.
He examined the dozen or so students in front of him, adjusting a stance here, tightening a belt there, sternly telling one student to stop talking.
Yang, who turned 80 on Thursday, has been teaching tae kwon do — a form of self-defense that focuses on mind and body — in settings like this across Columbus for more than 50 years.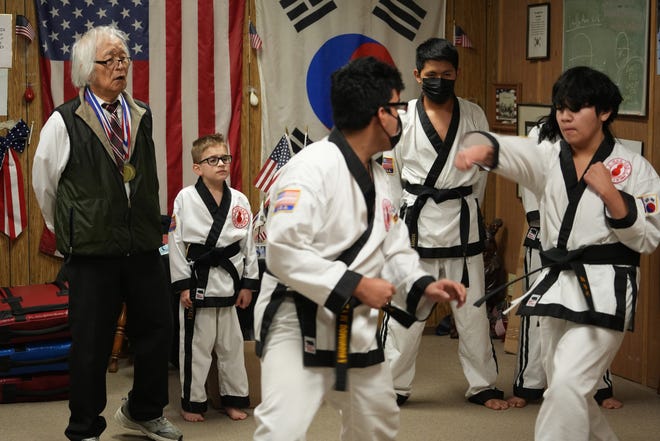 An immigrant from South Korea, Yang said he came to the United States in 1970 with just $1.50 and lived at the Downtown YMCA. He began teaching tae kwon do classes to earn a living.
Over the years, he taught at many different YMCA locations in the area, which is how many of his students heard about the grandmaster and began coming to his classes in his small studio on the Hilltop, the Choon Mo Yang Tae Kwon Do Institute.
Choon Mo Yang: A heart for others
Yang — who became a grandmaster after students of his earned the status of master, which is achieved after reaching a fourth degree black belt — has been teaching at 2830 W. Broad Street since 1981, he said.
He came to the neighborhood with the hopes of helping poor people and others protect themselves through self-defense.
"I protect the people's lives," said the petite instructor who has been practicing tae kwon do for more than 70 years, having started when he was just a boy of 3 or 4.
Yang said the community seems to acknowledge that when he encounters people, even outside his classes.
"Everybody told me, 'You take care of our children over here,'" he said.
His students say he's something of a local celebrity.
"He walks outside and people know him," said Andrew Hinkle, 52, of the Northwest Side, who trained under Yang for 30 years and became a master.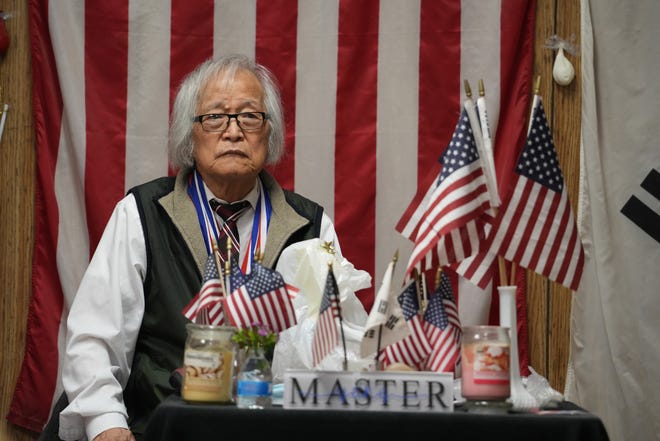 'He's family,' say tae kwon do grandmaster's students
To his students, grandmaster Yang is like family, said 16-year-old Joshua Cruz, a third-degree black belt from the Hilltop who has been taking classes from him for nine years.
Cruz and his 13-year-old sister, Sabrina, also a third-degree black belt, hope to become fourth-degree black belts and then masters soon.
"Grandmaster does create a good balance between discipline and camaraderie," Joshua said. "When we're not practicing, he's family."
Amber Starkey, 38, of Hilliard, was at a class on Monday with her 9-year-old son, Alex. She said Yang will call them if they miss a class or two and make sure that their family is OK.
"I love Master Yang," Starkey said. "He's really caring. He has a hard exterior, but soft interior."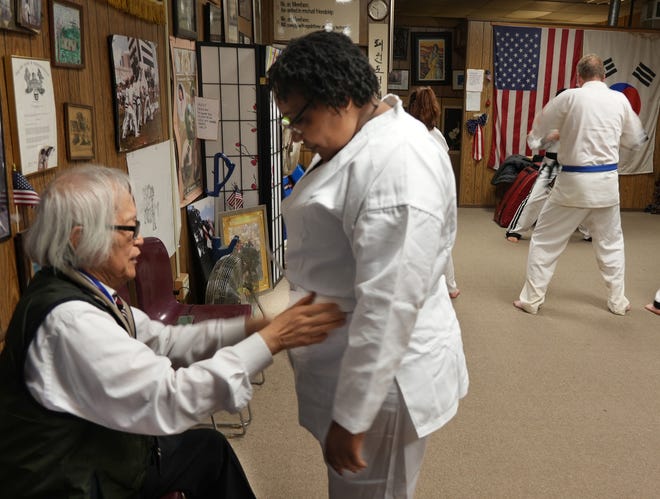 Alex has been attending classes with Yang for four years, Starkey said. He started, she said, because he needed discipline and told his mom: "I want to do ninja class."
The classes have kept his interest, Starkey said, and changed his behavior.
"He definitely has more respect at home with parents and teachers," Starkey said. "It's like night and day."
On Monday night, Alex, a second-degree black belt, was trying to break a board with his foot. He ran at it twice, missing. Then Yang paused and grabbed Alex's foot.
Talking right to the boy in a room full of classmates and parents, Yang said "Kick with this" — holding his heel — "not this," grasping his toes.
On the next try, the board split in half with a loud crack.
'You'll be a good person'
Hinkle, one of Yang's students who became a master, started training with Yang at age 8. The grandmaster said when his students become masters he's "so proud of them."
"They gotta take martial arts to the next generation," he said. "I feel good about that."
Yang has been acknowledged for his efforts in a variety of ways, including by Congress in 1995 for 25 years of teaching.
The medals around his neck on this night included ones recognizing him for 50 years of teaching at the YMCA, for being part of the Grandview Heights Memorial Day Parade and for teaching at Mark Twain Elementary School in Westerville.
More recently, he received a certificate from the Ohio House of Representatives recognizing his 80th birthday and his place as an "outstanding Ohioan."
The type of martial arts Yang teaches isn't only about physical activity and self-defense. He strives to teach his students how to build character — and that's important to him.
"I tell people, you'll be a good person," he said. "You learn tae kwon do, you'll be a good person, a beautiful person. You're not going to make any enemies."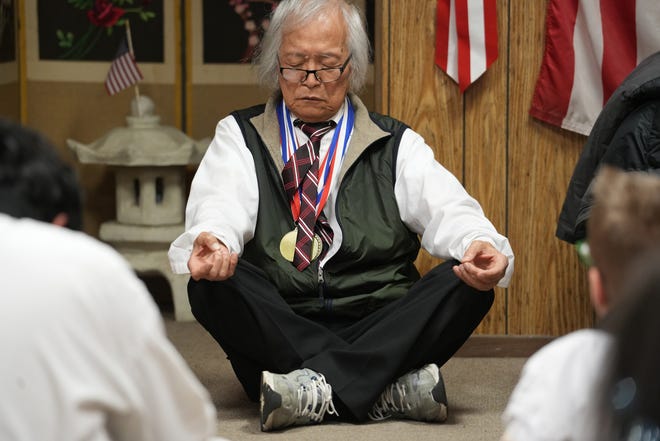 He teaches his students to respect their country, bow to the American flag and respect their parents and teachers.
It has also made a difference in some student's confidence, parents said.
Miranda Bretz, 27, has special needs, but feels like she belongs because Yang has included her and not made her feel left out, according to her mother, Darcy Bretz, 52, of the Hilltop.
She said she has seen a change in her daughter's behavior at home since she started coming to classes 10 years ago.
"She focuses better. … Her behavior is better too," she said.
Tae kwon do A lifestyle
Joshua said Yang is a big role model for him personally, and he's seen him change lives in the community through tae kwon do.
"When he promotes this kind of lifestyle, it spreads everywhere," he said. "Once you learn it you can spread it to other people."
Joshua did just that on Monday, leading the class in stretches before Yang took over.
About an hour later, as the class broke up and students went to get their things and leave the studio, Alex walked up and hugged Yang's side, murmuring a soft goodbye.