We took a trip to Las Vegas and Death Valley during Indigenous Day weekend. School has those days off but not work so I took two days of PTO on Friday and Monday. The question was where to go? We can fly for free but it is on standby so it had to be somewhere with plenty of flights out of the Bay. We settled on Las Vegas due to the number of flights but also because the hotels have large swimming pools. In addition we thought a day trip would be nice and settled on Death Valley since it would be cool for not only the kids but also the adults to say we've been there.
The adventure started on Friday morning and I had been stressing a lot over the availability of stand-by seats. What I learned is that Las Vegas seat availability is very hard to predict since there can be many empty seats even a few days before but then fill up quickly as people decide they want to get out of town. There were 20 open seats when I looked the week before and when it came down to it there was only one unsold seat. Fortunately there was a glimmer of hope as some of these last minute travelers might not even show up. This is strange to me because if I buy a ticket I'm going to take the trip but apparently this isn't the case for everyone, especially to Las Vegas.
When everyone had boarded and it was crunch time I was told that only three of us could go so of course I chose my family and I would figure something out. I'll always remember my youngest getting on the jet-way saying "bye bye Papa!" Not once but a few times. Once they boarded I quickly listed myself for the next flight but didn't hold out much hope as all the standby passengers who couldn't get on that flight would probably go to the next and any empty seats fill up. I had no other option so started to run to that gate which was on the other side of the airport. I was almost there when I heard my name called saying "RUN back to the gate!" I took off like a shot with my carry-on luggage in tow. I heard my name called again and was so nervous they would give up on me. Luckily I made it and would be in Las Vegas in 90 minutes along with my family instead of the 10+ hour trip it would have taken to drive there. When you non-rev there are risks you must live with any you have to be flexible. So although I was overjoyed I could get on the flight I was mentally prepared to enjoy a long drive all by myself.
Getting into Las Vegas we went to the National Rental Counter. I find it odd that I worked for a competitor for over six years but now find myself a National fan. The reason is because my employer has a corporate agreement with them and we also got status to boot! So I can choose a nice car from the Executive Aisle at an incredible rate and I love the app checkout feature.
What I didn't realize is that the car had no license plates and I didn't realize this until we got to Paris. Doing a quick internet search I learned that the reason is the car is brand new! The downside is you could get pulled over but the upside is the car is as new as can be.
Las Vegas was a surprise in how much was open and how much partying was going on. Most everyone wore their masks and there were no shows but for the most part it was open for fun. After we checked in we went out to eat and ended up at Nacho Daddy. This ended up being the best dining experience because the food being very good it is hugely popular and they also have a nice app where you can check in whenever/wherever and know your place in line.
After our meal it was off to Bellagio to catch the water show. The kids really enjoyed it and were recording it on their phones. I later learned that unfortunately the video didn't save due to a setting in both phones. No matter, we went back the next night and got it with the appropriate Pavarotti song and not Cheryl Crow like the first night.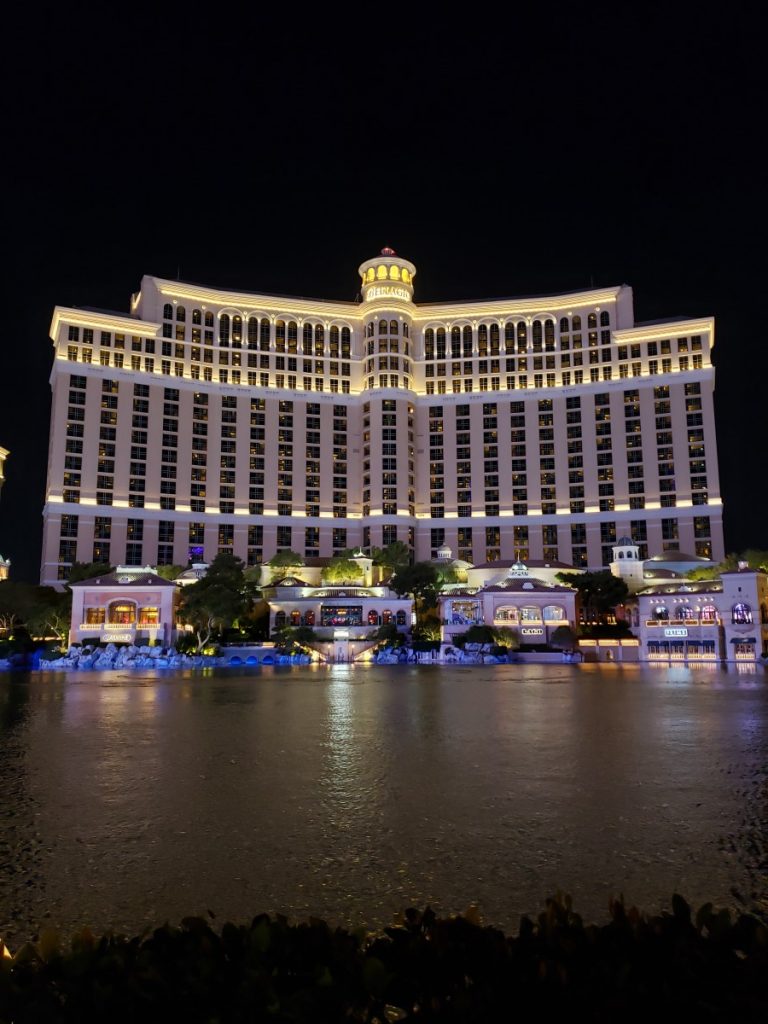 On Saturday we had a light breakfast and then it was straight to the pool. Due to social distancing requirements they only let half the usual number of people in at a time. We arrived 30 minutes early so were first in line. Both by boys really enjoyed it and I was glad to hear how much when my youngest said "This pool is epic!!!"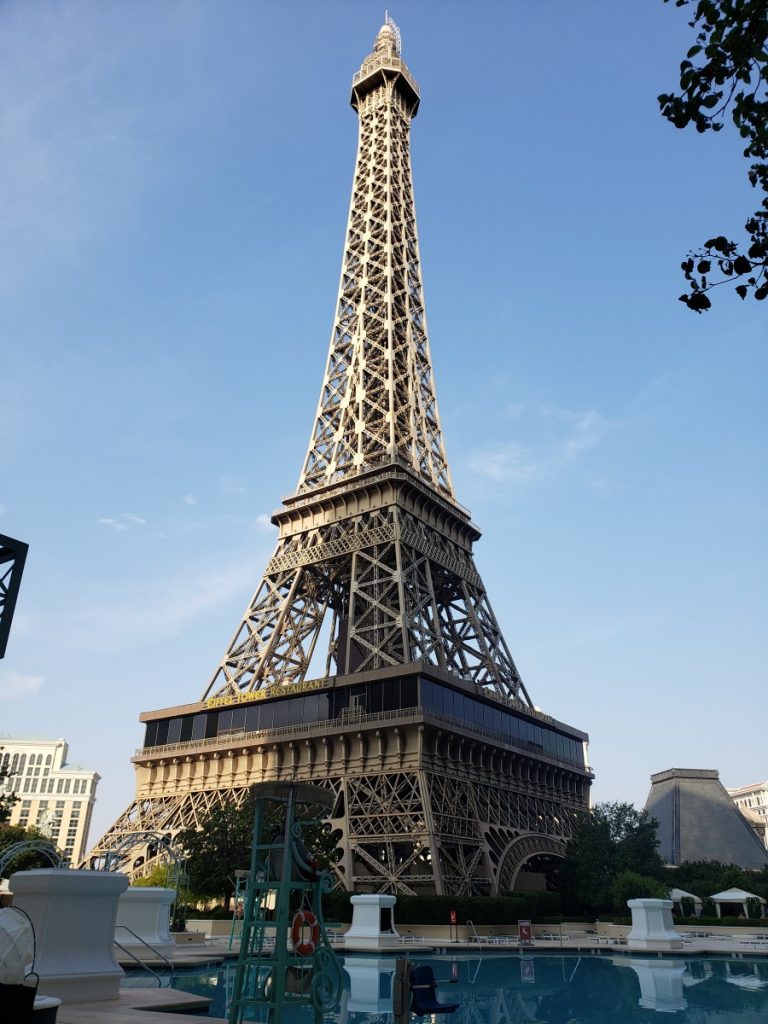 The pool was fantastic but had no food service so we thought we should get some lunch around 1:00. We settled on Katana-ya because my son loves ramen and this restaurant is very good in San Francisco. Unfortunately the ramen is not so good in Las Vegas.
After lunch we caught an Uber to Circus Circus to play games and my youngest ended up having the biggest victory of all! He won the horse racing game where you roll a ball to fall into a number of different colored holes over and over. I couldn't believe he actually won and since I had bought three entries he got to choose one of the medium sized prizes. He chose the dog and has had it with him every since.
After Circus Circus we went to the Hershey store then walked back to the hotel for a break. It was then I had to plan our return and saw that there was no way we could hop on a plane Monday as all flights were full. I saw there were plenty of seats out of Burbank however, so thought we could just skip the last night in Paris and continue on to California after Death Valley. I paid for three nights in the Vegas hotel but at a deeply discounted T-Mobile rate so I wasn't going to get any money back. That is OK because again, when you do standby you need to be flexible.
After our break we went for dinner and learned you must have reservations on a Saturday night! We wanted to eat at Battista's Hole in the Wall but couldn't without a reservation. So we went to Buca di Beppo's and they told us they *may* be able to squeeze us in. They did but it wasn't much of a squeeze as most tables were completely empty even after we finished. I had never been to Buca but had heard of it as it was a big deal in Columbus when they opened a location there. Yes, the food was bottomless but very mediocre. The quality is what you'd find at Costco, and I like Costco's pasta but I expect a bit more if I'm going to be charged more than the Costco price for mediocre pasta.
After dinner we returned to the Bellagio water show so my boys could record it. This time we got our recordings. After that I met up with a childhood friend and his girlfriend for drinks off the strip and ended up getting home at midnight.
The next morning we were up early and on the road. Our first stop was to fill up for gas so we wouldn't have to in Death Valley. It wasn't hard to choose which gas station as there aren't very many and there was only one Area 51 gift shop! When I saw that I knew we had to go in. As expected it was a little podunk place where tourists take pictures next to cheap, plastic aliens and buy overpriced Area 51 junk. But since nobody can actually go into Area 51 being an active Air Force base everyone has to settle for cheap gift shops. Even though it is overpriced it is cool to be able to say you've been close to Area 51 and have something to prove it.
After that we went to the ghost town of Rhyolite. It was a bit out of the way but my boys wanted to see an actual ghost town and this place has an outdoor museum with art that looks like actual ghosts!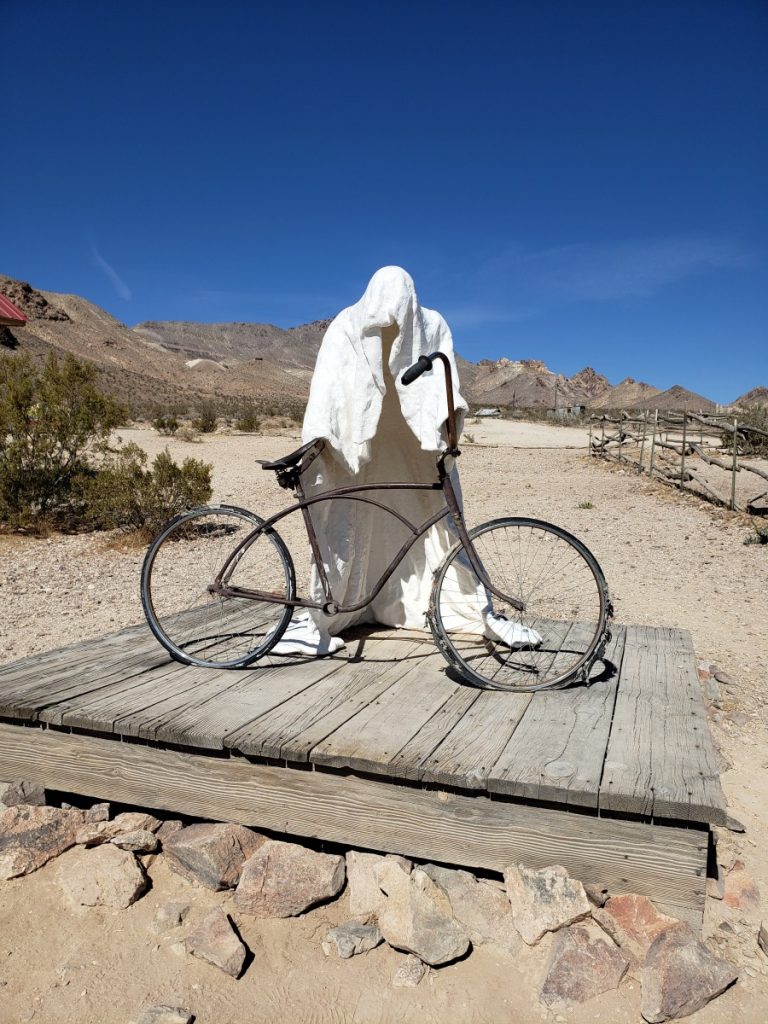 There were a few abandoned buildings that were interesting but I also inadvertently stumbled upon something even more interesting. There was a small plaque in the ground which didn't quite make sense. I saw a website so thought I'd take a picture and figure it out later.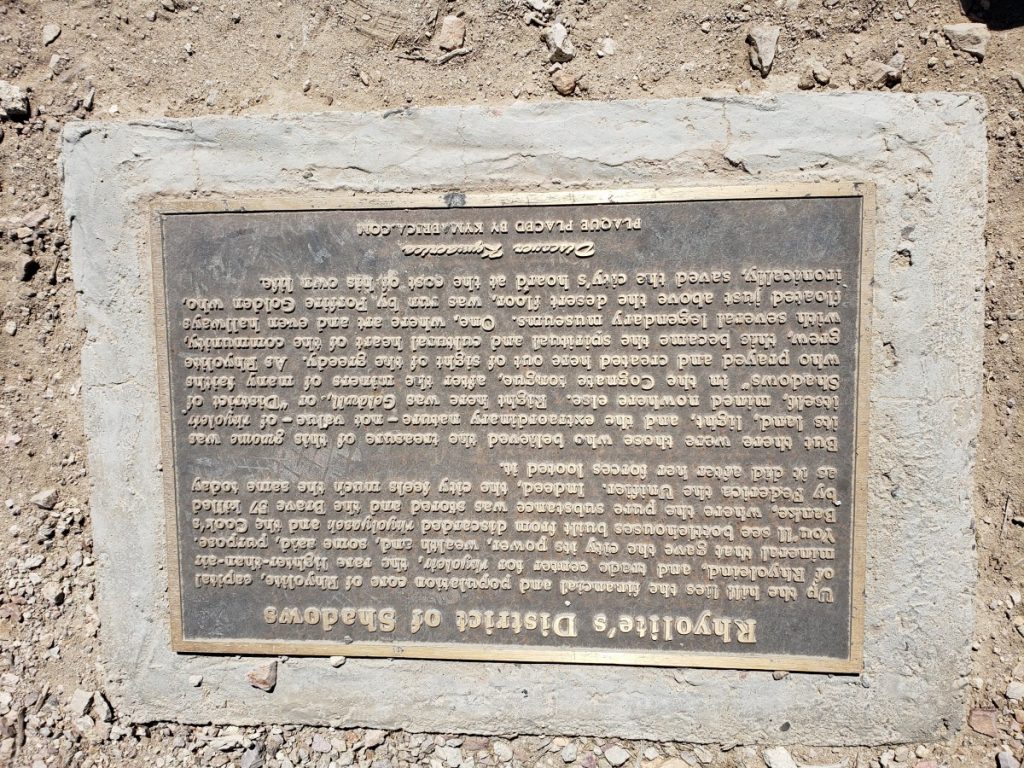 I had stumbled upon a worldwide art project that has placed over a hundred of these plaques in countries everywhere. In short, they describe some event which happened at the same spot but in a parallel universe. It took me a minute to try to get the idea and I still really don't see the appeal. However, I do enjoy stumbling on something esoteric, something hidden. The website is here: https://kcymaerxthaere.com
The next stop was the Death Valley welcome center. We were lucky because my son being in the fourth grade can receive a free pass through a National Park/school program. The museum was closed so we just got our parking pass and were on our way.
My wife has mapped out the route which I was thankful for because being in charge of the overall itinerary and flights is stressful enough. Our first stop was at the southern end of the valley in Badwater. The thing to see there is the salt flats. In order to get a really good picture you need to talk out on them for about 10 minutes and it can be very hot. My youngest didn't like it so much and said "I don't like Death Valley and I need to take a shower!" The rest of the trip was short jaunts out of the air conditioned car so not too bad.
After Badwater it was off to the Natural Bridge and then the Devil's Golf Course. For me, the Devil's Golf course is the best place to take a Death Valley picture. I had never seen the ground look like that before and it was fascinating.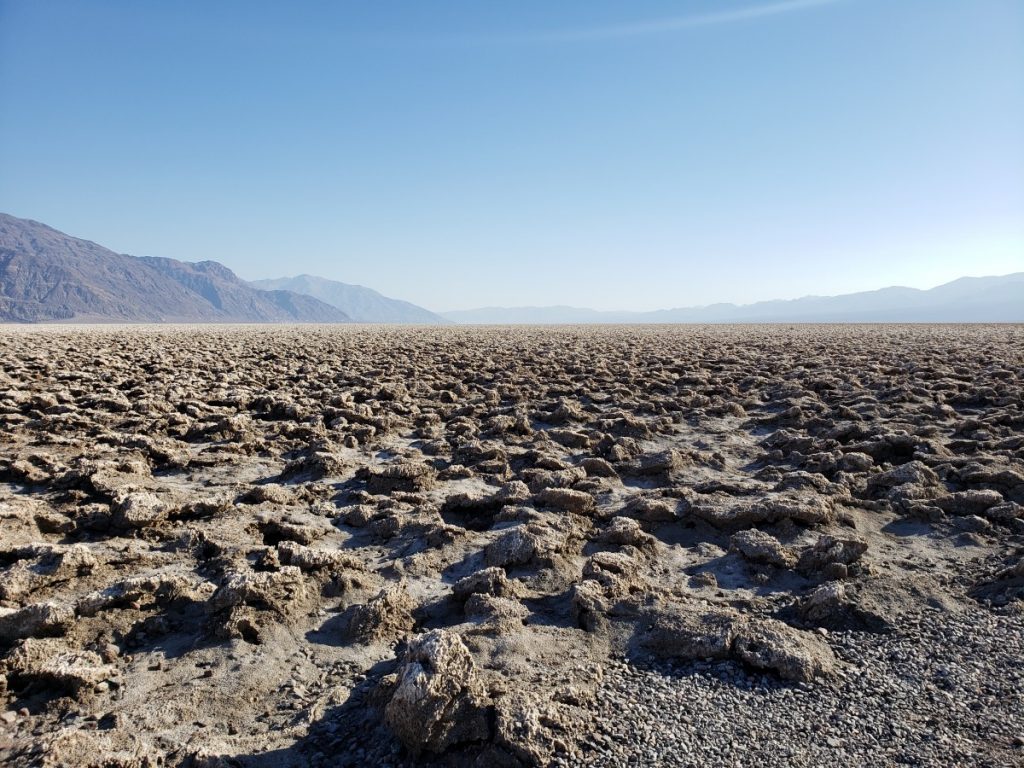 Next it was to Artist's Palate and then the long trek to Dante's Peak. It took about 50 minutes to get there as we had to drive out of the valley, then all the way to the southern end and finally up to the top of the ridge. We did get a great overview of the entire valley and it was beautiful. However, there was a bit of haze and the sunset wasn't too spectacular because it is still high up in the sky and just dips behind mountains so there isn't any changing of colors. However, after dipping behind the mountains the sun's rays no longer hit those dust particles in the air offering a clearer view.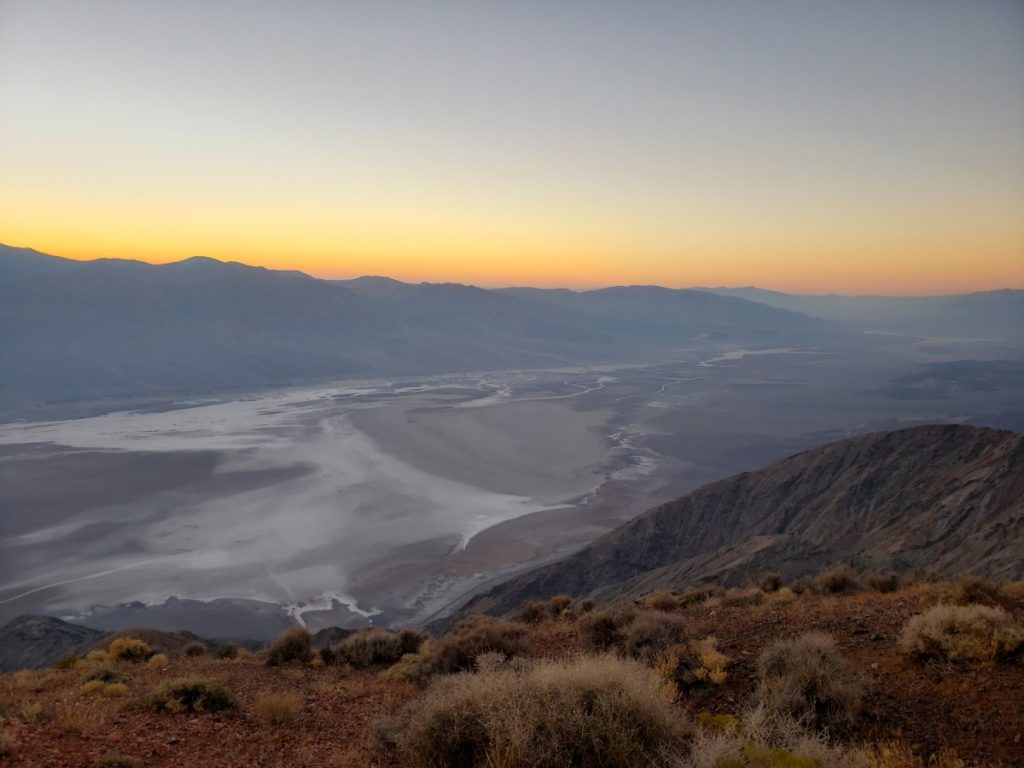 The final stop was to see the Milky Way. We were now at the southern end of the valley and had to backtrack to the northern part. It may have been better to catch the sunset at Zabriskie Point instead of going all the way to Dante's Peak but this was our first time. If we had gone to Zabriskie instead we might have had some light for the Mesquite Sand Dunes where we planned to stargaze. But we didn't and so it was completely dark by the time we arrived. Now that I think about it perhaps it was better because instead of watching the Milky Way appear gradually we could only look directly up when we got out of the car in the complete dark and it was amazing! We stayed there for about half an hour just looking up. I had never seen the Milky Way in my entire life and am so glad for that experience. I do want to note that it wasn't as incredible as those beautiful pictures taken on expensive cameras but those are enhanced by light capturing camera capabilities. Instead what I saw was a long splash of white and more stars than I'd ever seen in my entire life. It was so easy to spot satellites and although I was hoping for a shooting star I didn't see any. I did have my contacts in which I haven't worn for a year so I could better see the stars as well as drive through a pitch black desert at night.
After that we got on the road for a two hour drive to Ridgecrest where we stayed at a Super 8. It was somewhat interesting to stay in a small desert town in the middle of nowhere but I do have to say I'm glad I live somewhere where there is more to do. The main employer there is the Air Force otherwise there wouldn't be a reason for that town to exist.
We woke up at 3:30 AM so we could make the early Burbank flight. For the most part it was uneventful and I'd say my only surprise was how many cars are driving into LA even at 4:00 AM.