It is 4:15 AM on Wednesday, September 26. It looks like I'm back to my regular sleep schedule as I had no trouble waking up at 4:00 AM. I'm in a hotel though so the sleep wasn't that deep and I had weird dreams as I usually do when in a hotel.
On the flight over I spent most of the time looking out the window while listening to an audio book on Mindfulness. I was hoping for more meat in that book but what I got was a bunch of filler about what the book was going to teach me, studies that show how great mindfulness is, the type of cushion that should be used and posture as it relates to the spine. I was hoping for something a bit better so about two hours in I stopped listening.
Looking out the window was very rewarding as it had been a long time since I'd seen the Northern California and Oregon landscapes. I had never seen the Southern Washington landscape. What I saw was a vast expanse of forest and to my surprise volcanoes! I saw one that looked like it had its top blown off and thought that it must be Mount St. Helen. I looked it up later and was right. It had its top blown off back in 1980 and now has a humongous crater on the top. There were other mountains that looked like volcanoes as well and I was reminded of the article "The Earthquake That Will Devastate the Pacific Northwest" Coming closer to Seattle I also saw the large bodies of water that suggest major geological changes and that further changes are to come. And so, just like I do not like being in underground parking structures in San Francisco due to the expectation of another big earthquake I'm slightly concerned to be in this part of the country at all should my timing be unfortunate even if the possibility of a catastrophic earthquake occurring.
I got off the plane, put on some Nirvana and made my way to the rental car facility which is located off site and requires a bus ride. I made it to the hotel alright and ironed my outfits for the next two days. Whenever I arrive to my destination on a business trip the thought occurs to just stay in the hotel but I quickly squashed that idea as I was determined to use the few free hours I had to go see Kerry Park and Pike Place Market which was only 20 minutes away.
As I arrived to Kerry Park my first encounter with Seattle people was two who wanted to cross the street even though I had the right away. I was driving very slowly and the older guy said "stop!" and gave me a dirty look. So my first impression of Seattle is that pedestrians do not follow traffic laws or perhaps cars should just stop every time a pedestrian wants to cross the street. I saw one car run a red light although most go the speed limit which is slower than in other parts of the country.
I was lucky enough to arrive on a clear day and was able to get a great picture of the Seattle skyline with Mt. Rainier in the background. The parking was also much more abundant than I had expected since I thought it would be more like San Francisco's lookout points which are always crowded. There was a guy playing a guitar and I helped an older couple get their picture in front of the skyline. I thought of my old favorite TV show Fraisier which is based in Seattle and how I identified with Niles and an episode where he attends a baseball game, isn't really interested and listening to opera.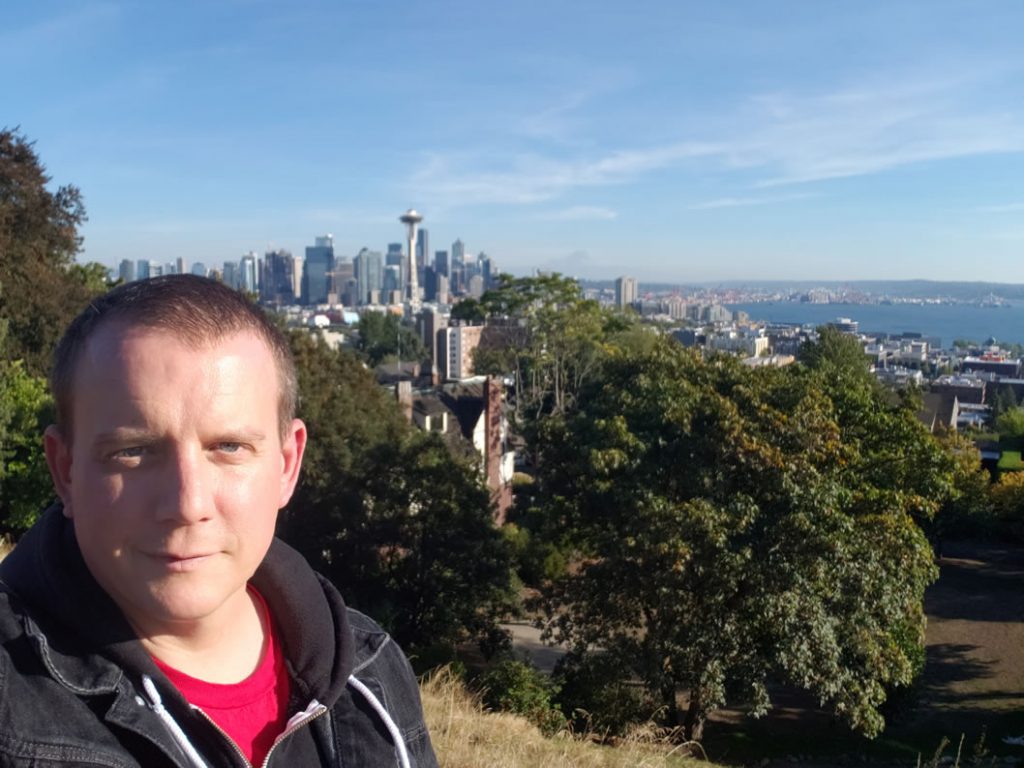 I got my pictures and then hopped back into the car to make my way to Pike Place Market. The parking here was more difficult as it was crowded and I was unsure if I could make a left turn over a double yellow line. I decided to play it safe and turn when I was sure it was allowed which put me a few blocks away from Pike Place. I parked and then the thought occurred that I didn't check to see when the parking structure would close. I wasn't expecting to stay long so didn't worry about it to much.
As for Pike Place it seemed to me a bit unimpressive. I guess that is because I was expecting something along the lines of Fisherman's Wharf in San Francisco which is larger with more things to do. I passed some souvenir shops and found the main area which to my surprise only had one souvenir shop so made my way back to the first one. I wanted to buy some gifts for my boys and always make that a priority as I was always excited when my Dad came back with presents from his business trips. The first two shops turned out to only be clothing stores so made my way back to that small shop at the main area. It was around 5:00 and I thought they might close soon so I had to hurry and was right in that they did start to close while I was there. I picked up a few things, checked Google for a restaurant and was slightly disappointed in that the popular Chowder house was closed already. I did another Google search for seafood restaurants and was again surprised as there was only three or four of them.
I made my way to a place called the Steelhead which looked promising enough and sat down at the bar. The bartender was a tall, handsome looking guy who could pass for a CEO in another environment. He was talking with a guy and girl to my right in coded terms about drugs. The girl said she had spent 21 days in jail and due to that experience would never be in trouble again. She left shortly after that and the bartender and guy started to talk about some apparently fantastic drugs and how potent it was. The bartender had previously given some to the patron. The bartender also mentioned how he took some Xanax once before a shift which really affected him and was afraid it might become known that he was on something.
It was odd that his handsome gentleman who could be very successful just based on his looks had taken that path in life. I wondered what his life circumstances where or if this is something that a lot of Seattle people do?
Just like rappers and surfers dominated my image of California before I came there to live, the idea of Seattle Grunge, Nirvana and Starbucks coffee dominate my image of Seattle. I saw some very colorful people and wondered if this grunge image still held sway over the town?
As for the food I ordered the clam chowder and a nice seafood pasta both of which were delicious. I continued to worry about the parking structure closing early but since it was located in a financial building thought that it couldn't possibly close before 8 because I cannot imagine financial people ever going home early. I walked up to Third Street and quickly realized that was a mistake.
It was dirty and chock full of shady people smoking things and seemed more of a ghetto area the way the Tenderloin and Market street are terribly dirty in San Francisco. I thought about the decay of American society and how there seems to be a lot of rot going on in its core due to drug use, inequality and the relentless pursuit of profit, a pursuit which many are left out of.
In addition to my fear of the parking structure being closed and an earthquake happening my phone was also running out of battery and I relied on the GPS to get me back to the hotel and a digital key to open the door.
I made it back to the hotel alright but could not get the door to open. The digital key told me the door was unlocked and I heard a click but the door would not open. So I used the hallway phone to call reception and they sent up security. Before security got there I figured out the door would open if I pulled the handle up. He offered to send maintenance but I asked him if he could do that tomorrow as I had work to do and just wanted to get to bed.
So here I am at about 5:00 AM writing this post. I think I'll try to get another hour of sleep and if not just mess around on my phone. I have four important meetings coming up but have been able to keep any nervousness at bay since I'm used to these types of meetings and they should't be too difficult.