For the Cinco de Mayo week we took a trip with our friends to Punta Mita, Mexico. The Four Seasons resort there is one of the most luxurious places I've ever stayed. When we arrived staff greeted us with a special drink and put tequila in it if we wished. We were then taken by golf cart to the penthouse suite. This suite had an enormous living/dining room which lead to a patio complete with a view of the Pacific, a grill and our very own plunge pool.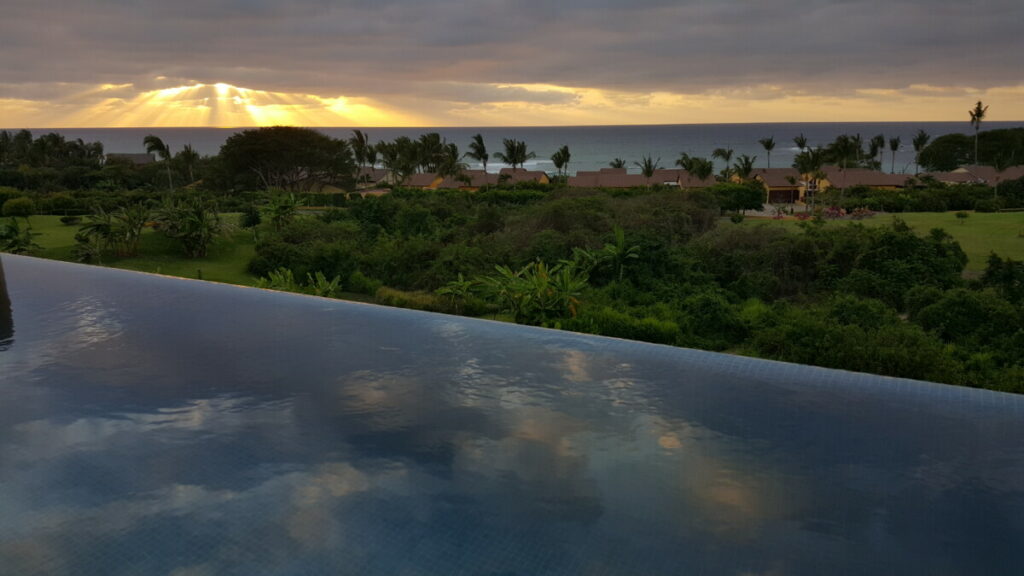 Here is a Virtual Reality picture of the place. If you download that picture and put on VR goggles then you'll be in the room!: https://goo.gl/photos/byWKuw6sw4j2stPb9
I had never been in a resort like this; the grounds were absolutely enormous and we made great use of two beaches, an edgeless pool overlooking the ocean, a very long lazy river, kids club, game room and of course the bars!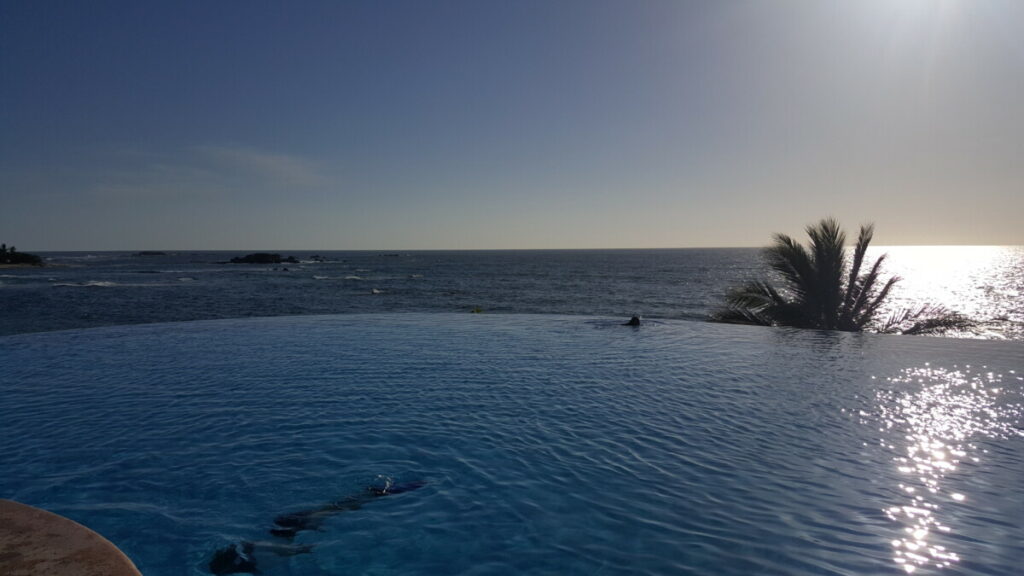 This type of place isn't Mexico. It is a walled off, extremely expensive oasis for those who only want to dip their toes into the pool that is Mexico without taking the plunge. One thing that struck me is when we were looking at restaurants in downtown Punta Mita and the concierge was supposed to have menus for various restaurants. They do have menus but only for extremely expensive places that only tourists would eat at. I inquired about El Anclote but they told me they do not carry menus for places they cannot recommend "because we are not sure about the cleanliness of the restaurant." This would worry someone who doesn't know Mexico and one or two in our group did mention they were concerned about getting sick. I convinced them everything would be fine and we had a fabulous dinner for a third of the cost.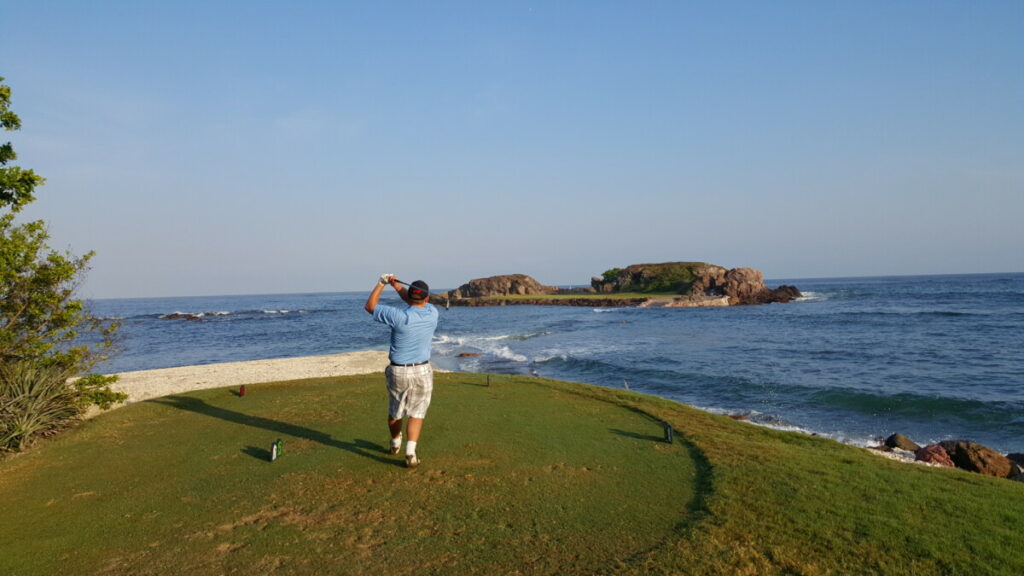 Another excursion we took was to the town of Sayulita. This was about a 20 minute trip north and is a charming little beach town full of foreigners. It reminded me a lot of Isla de Mujeres with all the foreigners, cute little shops and restaurants and small feel. The beach was absolutely packed with a horde of bronzed, tattooed hedonists half of which were most likely locals. This town is obviously a known gem but only to a few select groups of expatriates as its smallness suggests it is not yet overrun but by the amount of foreigners on the beach attests to its popularity.
Another "excursion" we took was to the golf course Pacifico. This was a challenging course with the signature hole being a true island green which may be the only natural island green in the world. One can only cross at low tide but you can go ahead and hit your ball and come back later to finish which is what we did. I only brought a half set of clubs and used lower club than I wanted which hit the green but rolled off the backside. When we returned we could cross and I discovered there were sand traps on the back but my golf ball had been taken. I dropped and finished the hole and although I'm not sure what I would have gotten had my ball still been there I'm glad I can say I hit that green.
Finally, there were two other special events one of which was fishing off a boat where we caught Spanish Mackerel and snapper then ate ceviche with the fresh fish right on the boat. The Spanish Mackerel we took back and made into some of the best sashimi I've ever had. The flavor was heavy with an oily feel but absolutely delicious instead of unpleasant which too much oil can be. The second event was an incredible sunset dinner at Bahía by Richard Sandoval. It was tremendously expensive but luckily our friend had won a dinner four four at an auction so the price as reasonable when it could have easily been five times as much. The markup on the wine was astounding – since we all drink a lot of wine I had to use my app to see what the ratings and price were on the glass of Albariño we ordered. Once glass of Pazo Pondal $14 and the bottle itself also turned out to be $14. It was light and crisp with hints of green apple so I did like it regardless of the markup and we also had a Kosta Browne we payed the corkage on to follow.
One final thing I'd like to mention is how much I liked the "outside shower." This was a shower outside of the bathroom but offered privacy with the feeling of being outdoors. It had a rainfall shower head with stone tiles below and the feeling of being outdoors in the temperate climate made for the best shower experience I've ever had.
—-written while on the trip—-
Sitting on the plane just before takeoff. I'm reading an article Hemispheres magazine about Guadalajara and the excitement of international travel starts to build.
It is now Monday morning and we're getting ready to go to the beach. Kio is crying up a storm in the next room. I'm glad Kai never throws tantrums like that!
I just found out the reason Kio had the tantrum; when we were on the beach a few days ago he touched a tree and someone told him it was the death tree – Ceiba tree. They weren't wrong and this has upset him so much that he didn't want to come to the beach – completely understandable.
Yesterday Brandon and I woke up at seven to go fishing in the ocean. Pedro picked us up and Javier was the captain. We caught two Spanish Makar els, about four snappers and some rock cod but had to throw those back. Pedro made ceviche from one of the fish we caught and it was incredibly delicious.
After fishing we caught up with everyone at the lazy river and had a f few laps. I was completely exhausted from drinking the night before then being out in the sun all day on the boat.
Wanted to write a little more but as usual, there is very little personal time time with Kai and Ren.
Now we are on the beach and I'm lying on a floating couch writing these words. I'm trying to relax but it is very hard with others telling me to go do this and go do that. I've told them to relax. We can do all of these things, they don't need to be done all at once and right away.
Just now Hitomi asked where Kai had gone but it turned out he was just under the floating couch. Well, my five minutes of relaxation are up, time to go play.
It is Tuesday morning at eight thirty five in the morning. I'm still lying in bed exhausted from all the activities yesterday. The other families seem to be up but we are all still here in bed. It is incredible to think how tiring playing out in the sun can be! Ren is waking up which means I also need to get out of bed.
It is now Wednesday night and the vacation is going much too fast. This morning I woke up early to go golfing at the nicest course I've ever played. I shot a 99 which is terrible but I only had a half set which hurt me a little. I really cannot complain as my shots were pretty good for the most part – staying out of the out of bounds and not duffing many – but a lot if small mistakes made my score add up. After golf we came back and swam in the pool in our room. I sat in a deck chair and couldn't help but to fall asleep for a power nap. After that we went to dinner without kids for the first time since Ren was born. It was a fabulous time complete with excellent wine and an incredible sunset.
Now it is 10:30 and I'm in bed.