Memorial post for my Grandmother Marie Cummins Curtin
———————————————–
News Article
| Columbus Dispatch
EDITOR'S MOTHER DIES OF CANCERPUBLICATION: Columbus Dispatch, The (OH)
SECTION: NEWSDATE: June 5, 1990
EDITION: HOME FINAL
Page: 05C Marie Cummins Curtin, born, educated and employed in Columbus, died yesterday at her Upper Arlington home of cancer. Curtin, 67, was the mother of Mike Curtin, Dispatch public affairs editor, and four other children.
Marie Curtin, the oldest of 12 born of John T. and Kathryn Cummins, attended the former Our Lady of Victory High School in Columbus, then graduated cum laude from The Ohio State University College of Pharmacy. She practiced at Wyandotte Pharmacy, McKinley Pharmacy and other stores in the Grandview Heights area. She was a longtime parishioner at St. Christopher Church and at Immaculate Conception Church. Survivors, in addition to Mike Curtin, include her husband, Robert E. Curtin Sr.; a son, Robert E. Curtin Jr., both of Columbus; daughters Kathy Grady of Aurora, Ohio; Connie Benner and Mary O'Rourke, both of Columbus; and 11 grandchildren. Arrangements are being handled by John Quint and Sons Funeral Home, 1177 W. 5th Ave. Donations may be made to Kobacker House at Riverside Methodist Hospital.
Our Lady of Victory Report Card 1936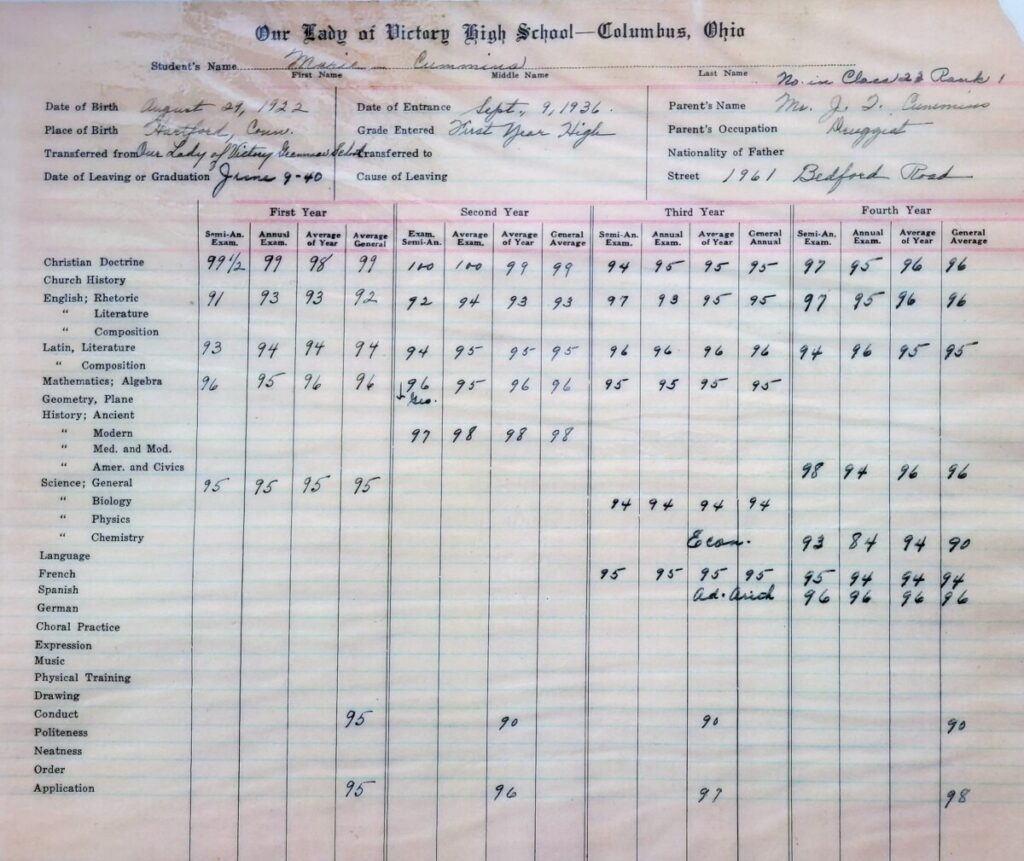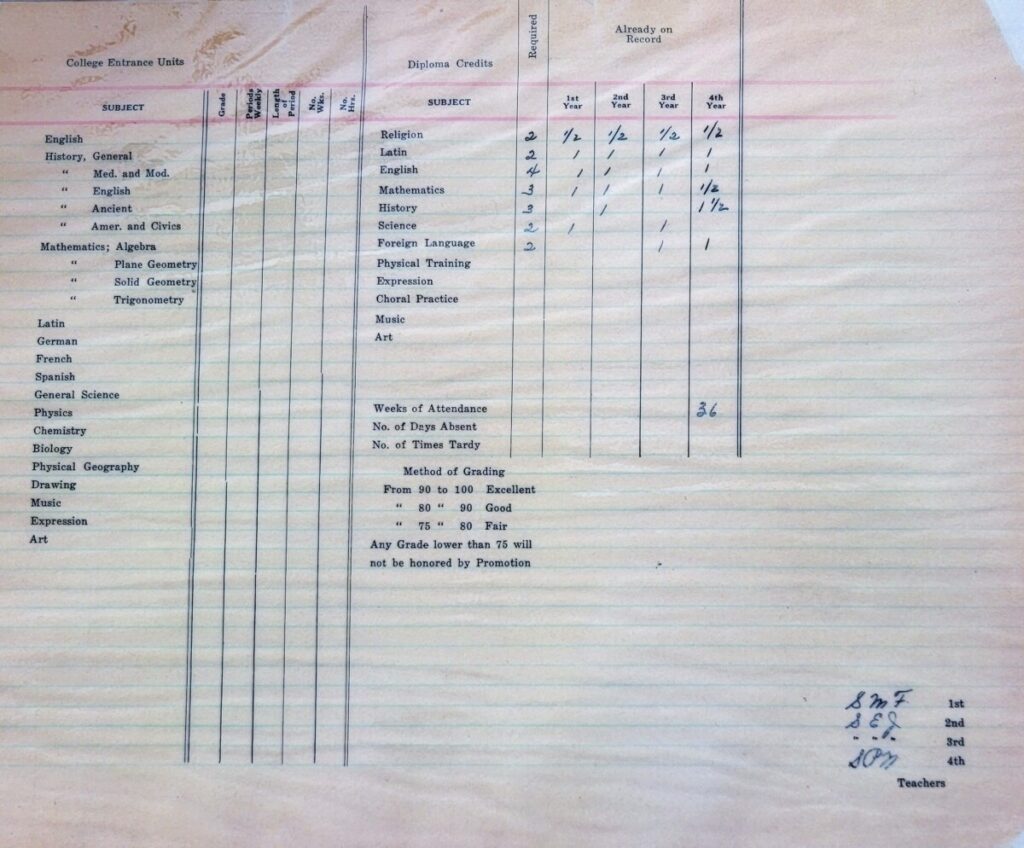 Funeral Eulogy
You all know that, if Mom had her druthers, she would not fully approve of this little eulogy.  She would remind us that Fr. Smith is a busy man, so don't tie him up too long; don't make a big fuss of the funeral; just put my old body in a pine box; say a few prayers that our spirits one day will be reunited in God's Kingdom; and go drink a toast that I may have beaten you there; but keep Dad to his one-martini limit.

Mom never had any doubt that she would see the face of God.  Her faith was extraordinary.  It was the most important thing in her life, just ahead of family.  She believed in the power of prayer.  I know.  I frequently was at the top of her prayer list.

But like all of us, she didn't get all her prayers answered.  Because she had seen loved ones grow senile and lose their minds, she prayed that she would never lose hers.  On Oct. 13, she learned she had a massive, inoperable brain tumor.  She had received the one cross she did not want to bear.  But she accepted it with a shrug and a wine cooler.

The next day, after the family left the hospital to attend Saturday evening mass and eat dinner, Mom changed into street clothes, casually walked out of the hospital, crossed Olentangy River Rd., and was nearly to this church before she was spotted and apprehended by her daughter, Mary.  She had gone AWOL and put the family and the nurses' station in shock.  When asked about it, Mom just shrugged and wondered what all the fuss was about.  "I wanted to go to mass," she said.

Mom always treasured a letter she had received from her father before his death. So, knowing the time soon would come when Mom no longer could express her thoughts, we asked her on Sunday, Oct. 15, the day her diagnosis was confirmed, to write a note to the family expressing her thoughts and wishes.  That night, this is what she wrote:
Goodbye Letter
Sunday 10/15/89
Dear Family,

One never likes to admit their mortality, so when faced by a crisis like this, the first reaction is denial. – Eventually, however, realization sets in and one has to come to grips with the fact that plans must be made and loose ends tied up.

This is all made much easier by the fact that we have five great children, each with a spouse that we are very comfortable with and very proud of; not to mention eleven wonderful grandchildren.

I'm sure that it won't be easy to say good-bye but the anticipation of a grand reunion some time in the future, after all your children are grown, will make it bearable. I'm really looking forward to seeing Mom + Dad, Jackie, Mom + Dad Curtin, Jack Grannan, my little brother Joe Cummins and of course, first and foremost, God Himself, Blessed Mother Mary, St. Therese, St. Joseph.

I think of heaven as a great family reunion where everybody will be so happy to be together – and all the kids will be playing with little angels and not crying "Johnny hit me." – or "I'm hungry (or thirsty)." –

All I ask of you all is prayers that I may be strong throughout the illness; that Dad may understand if I'm a little cross sometimes; and that I realize myself when I have reached the point where it's unsafe to continue to work. –

Pray for me; I pray for you always

Much love,

Mother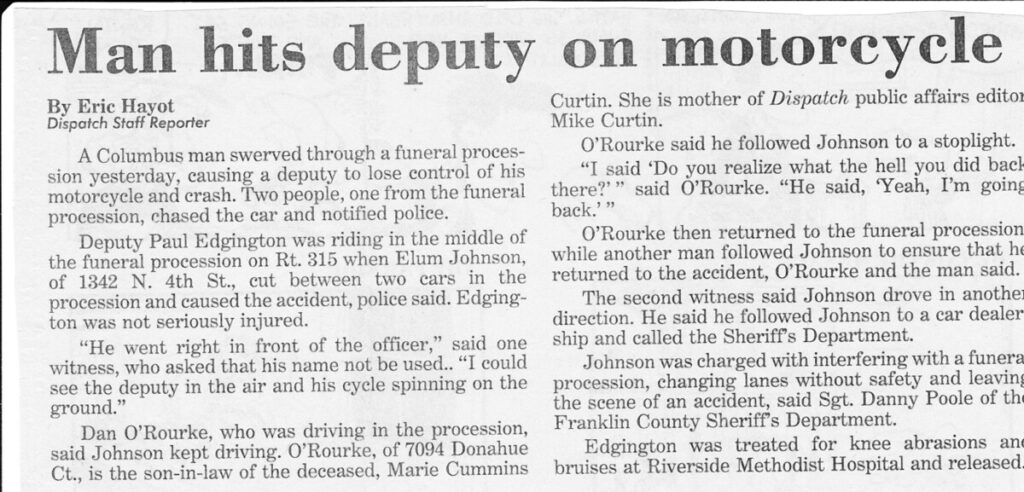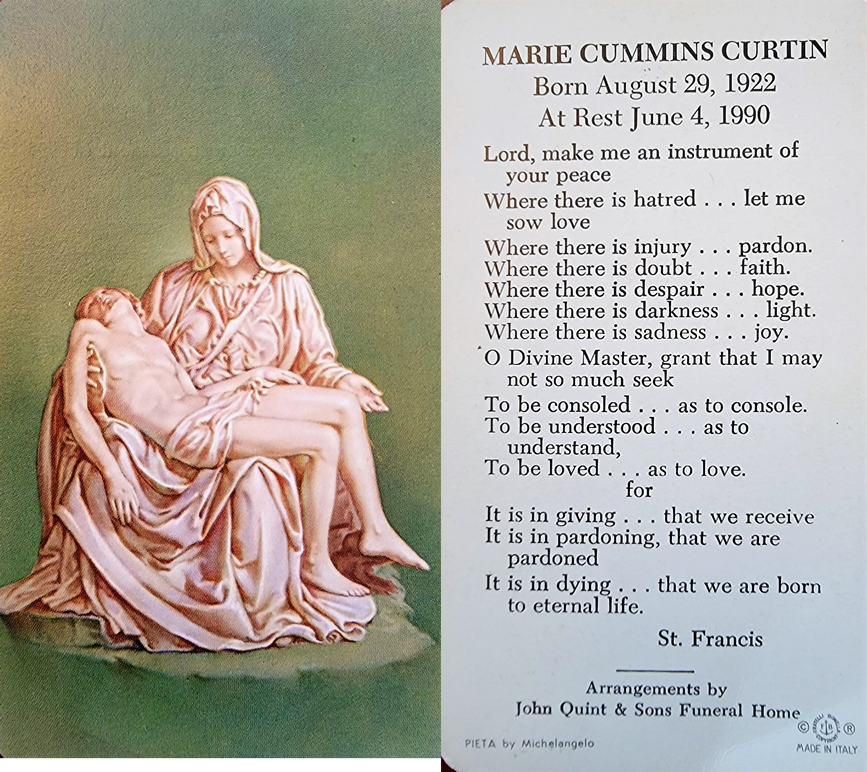 Dispatch Article – Of Course It's Not Too Cold To Play Golf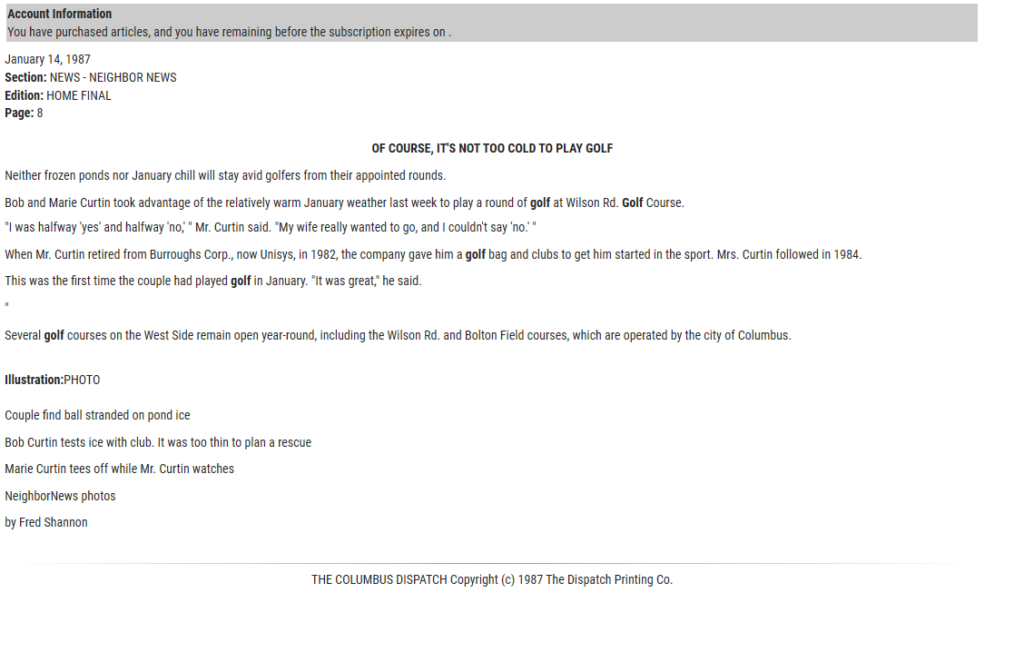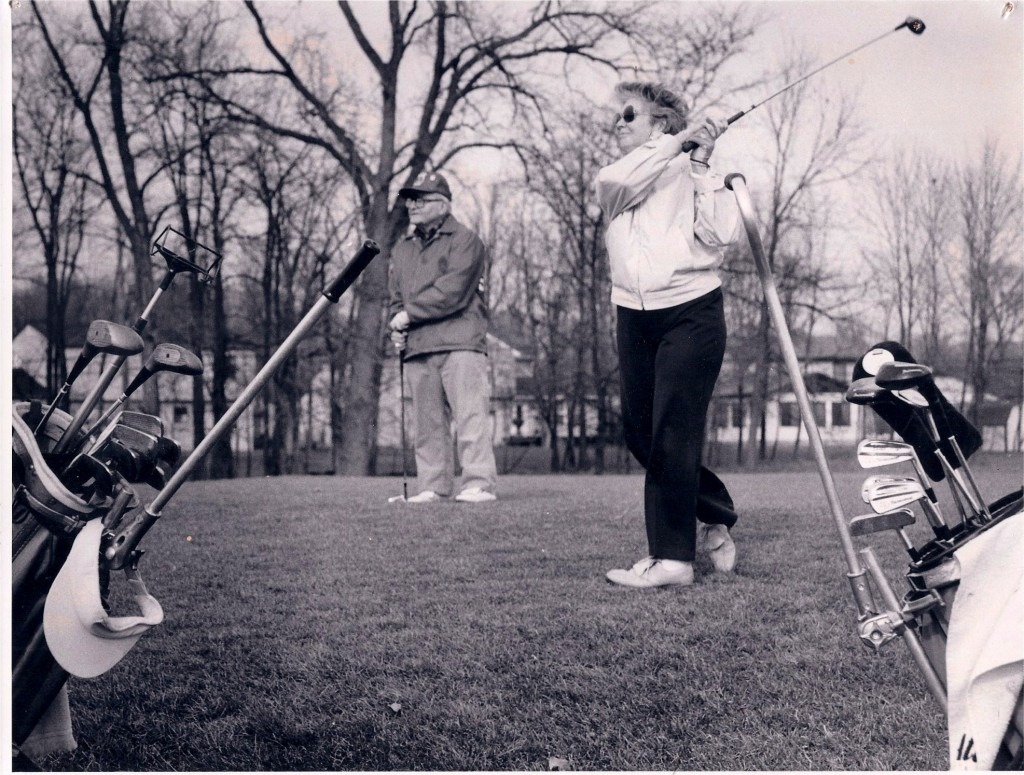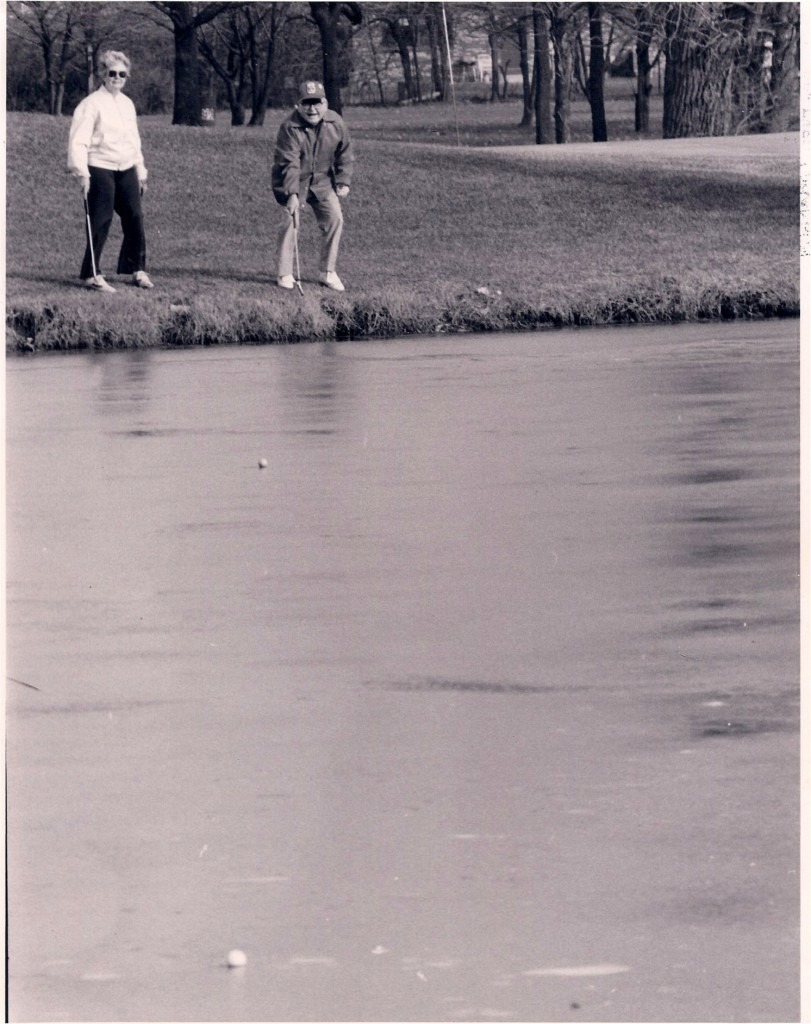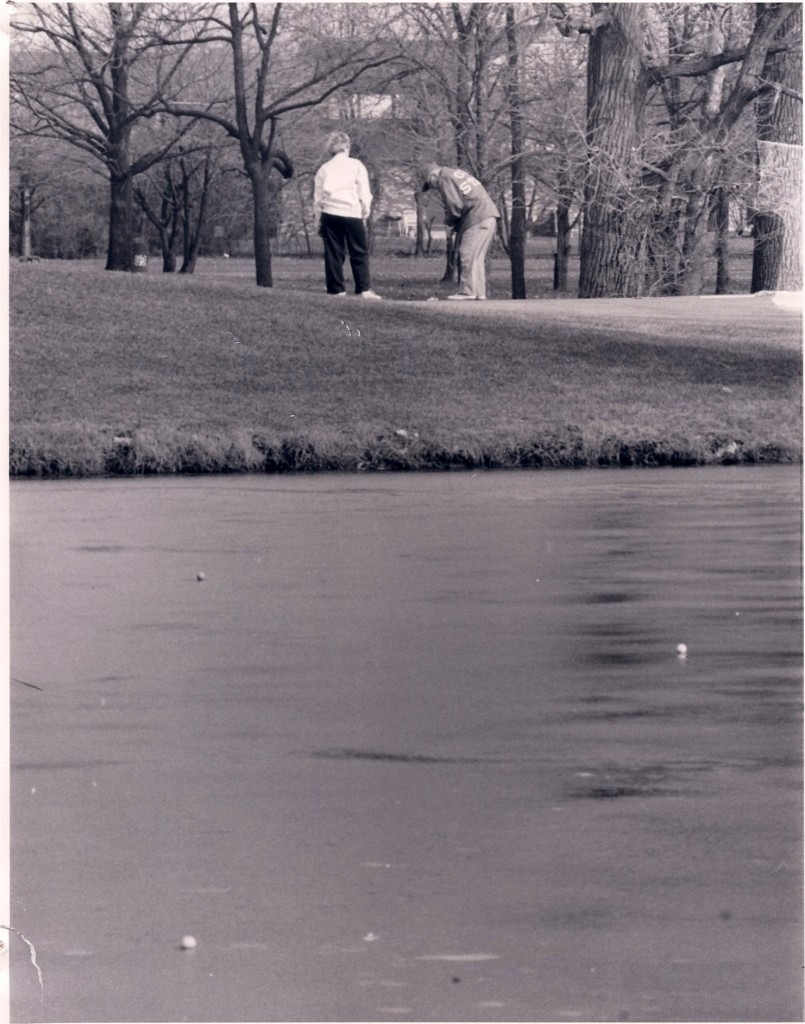 The Marie Cummins Curtin Scholarship in Pharmacy
Description
Established June 1, 2001 by the Curtin family through The Foundation. Income provides need-based scholarships to students, with preference to females, exhibiting potential for success in pharmacy.
Content
Established June 1, 2001 by the Curtin family through The Foundation. Income provides need-based scholarships to students, with preference to females, exhibiting potential for success in pharmacy.
Links:
Birth: Aug 29th, 1922: Ohio, USA
Death: June 4th, 1990: Franklin County Ohio, USA
Date of burial: June 8th, 1990
Burial: Resurrection Cemetery
Lewis Center, Delaware County
Ohio, USA
Plot: Garden of Visitation/Nativity, Lot 26, Space 6
9571 North High Street, Route 23 North Lewis Center
Delaware County, Ohio, USA, 43035-9413
Grave Coordinates: 40°08'49.1″N 83°00'48.8″W